Ask anyone for a decently spec'd smartphone and the first name you're likely to hear is the sleek and sassy Moto G. Motorola has always lived up to our expectations with its wonderful Moto G line-up, and believe it or not, even after four years, the company is still making the best budget phone a whole lot better. After going into the hands of Lenovo, we expected a chop down for the highly successful G series, but looks like Lenovo had other plans. The Chinese giant has unleashed the fourth generation of Moto G under its own branding, but with the same feel which we have been loving for years now.
Moto G4 or Moto G 2016 is set to hit the shelves with a tempting set of specs and a price like no other. The device is built on the foundation laid by previous Moto G models, and has a lot on offer including a faster processor, bigger battery, and a sharp display. It's a tempting prospect with a lot to cherish!
Design and Build Quality
Despite major branding changes, Moto G4 continues the same trend with a clean and impressive profile. The 2016 model comes with minor tweaks here and there and features a sense of freshness and individuality. The curved back panel is now flatter, and the strip extending from camera sensor to the "M" logo has been shortened to pair just the camera and its flash. We like the overall profile of the new Moto G, especially considering the fact it's a whole lot sleek, slim, and light.
On the other end, Motorola has ditched the trademark bottom grille, and has featured a small home-button with a raised border running around it. The easy to reach button integrates with a fingerprint scanner on the plus variant of the device. Other things are also pretty impressive, except for the downgrade from full waterproofing to splash resistance!
Display and Visual Experience
For the first time in the history of entry-level Moto smartphones, a device ships with a full-HD IPS display. Bigger, better, and sharper, that's what Moto G 2016 has on offer for you. The device packs a wonderful set of internals, and sports a meticulously crafted 5.5-inch full-HD IPS display. It endows vibrant visuals with fine details, and is equally well supported by Gorilla Glass 3 protection on the top. The bump-up of screen-size and resolution is a major highlight of the new Moto G, where you get a perfect ecosystem for playing your favourite games or watching the movie or web series you love!
Internals and Performance
Just like display, other areas have also improved on Moto G4. The device now incorporates a faster Snapdragon 617 processor, and promises a lot more than Moto G3 ever did. It features eight Cortex-A53 cores running at 1.5GHz, and pairs up with Adreno 405 GPU and blazing fast Cat 7 LTE connectivity.
Moto G4 brings top-notch internals at the right price, and pairs up with 2GB RAM and 16GB internal storage. It offers exactly the double of entry-level Moto G3, and also includes a microSD card slot for storage expansion up to 128 gigs.
All of this looks pretty good for a head start, but in case you need more RAM and ROM, there's also a Plus variant on the cards. Though Moto G4 Plus runs on the same chipset, enhanced RAM and inbuilt storage adds a lot for hefty users and gaming addicts.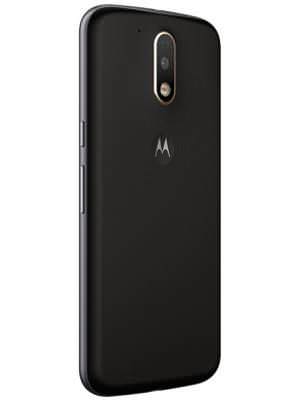 Software and UI
Even under Lenovo, Moto G continues to offer stock Android experience with the usual suite of Moto apps. The device runs Android 6.0.1 Marshmallow out-of-the box, and boasts a layer of added features for seamless work and play.
Lenovo promises assured upgrade to Android N and O, and includes some mind-boggling apps such as Moto Actions, Moto Display, and Moto Assist. The Moto Actions allows you to customize gesture control for launching torch, camera, and other apps, and Moto Display adjusts display according to different modes defined by the user.
Compared to other phones with colourful apps icons and bulky skins, the software Moto G4 looks fairly fast, clean, and responsive.
Moto G4 Camera
Moto G4 packs a decent set of specs and upgrades, but its rear and front-facing camera is still the same. The device bears a 13-megapixel main camera with f/2.0 aperture and dual-LED flash and a 5-megapixel front-facing snapper with OmniVision OV5693 sensor, f/2.2 aperture, and 84-degree wide-angled lens. It delivers sharp and colour-rich images in all environments, also allows you to use manual camera settings such as ISO and White Balance.
Since Moto G4's camera no major upgrade over its predecessor, we suggest going for Moto G4 Plus for fulfilling photography goals. It ships with a 16-megapixel sensor with laser autofocus, and packs a better setup for professional photography. You can certainly expect better image output from the dual-SIM based handset.
Big Battery in the House
Moto G4 accommodates a big 3000mAh battery, and gives immense power for non-stop work and play. The device packs a strong punch against all entry-level phones that come with 3000 mAh or more power, and offers just around 24 hours of backup after a complete charge cycle. It makes a great package for heavy users, and gets even better with advanced TurboCharger that adds benefits of fast charging. Last time seen with Moto G Turbo Edition, the much improved TurboCharger claims to deliver 6 hours of fuel with a single 15-minute charge on Moto G4. It clearly makes a tempting deal especially considering the screen-size and resolution upgrade!
Bottom Line
Though there's no word on pricing, the spec-sheet clearly reveals Moto G4 is a great upgrade over its predecessor. The device incorporates top-of-the line specs, something we expect from a sub-15k smartphone, and delivers an impeccable experience with a sharp display and stock Android Marshmallow. It's a nice choice for entry-level buyers, but if you need more, there's always a choice in the form of Moto G4 Plus!