Melting Middle Truffles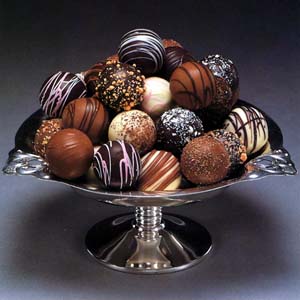 N.Petruccelli created the first chocolate truffle in Chambery in France but we have Antoine Defour and his chocolate shop 'Prestat' to thank for bringing this delicacy to our shores in 1902. London based Prestat still stocks the original truffle recipe named 'Napoleon III'. This recipe is based on the French style, which sees a blend of cream and chocolate rolled in cocoa. The inclusion of the caramel 'melting' middle is a nod to the Belgian method, which is made using a contrasting centre to its chocolate surround. We have used Montezuma very dark chocolate which is 73% cocoa in order to achieve the rich depth of flavour so desirable in a truffle centre. The ganache is made from a creamy blend of double cream vanilla and milk chocolate making this a sumptuous indulgence.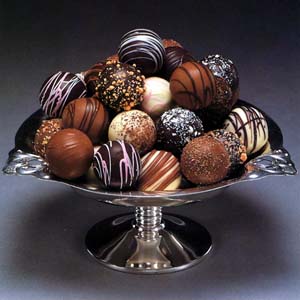 These delightful truffles can make beautiful gifts as well as delicious wedding favours or stylish petit fours.
Ingredients
225g Dulce de Leche caramel toffee
100g Montezuma Very Dark chocolate, chopped
400g Montezuma Milk chocolate, chopped
142ml double cream
1 teaspoon vanilla extract
85g cocoa powder to coat
Method
Heat the Dulce de Leche in a pan until warm and runny, and then stir in the chopped Montezuma Very Dark chocolate until melted.
Keep stirring until the mixture is smooth.
Cover a plate with cling film, oil well then tip the mix on top.
Cool the mixture then freeze for 2 hours until hard.
Put the cream into a pan and bring to the boil, then pour over the chopped Montezuma milk chocolate.
Let the chocolate and cream mix stand for 2 minutes, add the vanilla extract then stir until smooth.
Cool, then refrigerate until set.
Remove the caramel from the cling film and cut into centimetre square sized pieces using wet scissors.
Sprinkle cocoa powder over a large baking tray.
Dust your hands with the cocoa powder and roll a heaped teaspoon amount of the truffle mix between your palms to shape a ball.
Poke a caramel piece in the middle and roll again to surround it until a ball is formed.
Place the truffle onto the tray then roll in the cocoa to coat completely.
Repeat the process with all 40 truffles, chill and serve!
Top tip – if consuming within 3 days, then the truffles are fine to keep in the fridge. If making in advance, you can freeze them until you are ready.