Though it's fair to say that I've been very much in love with my dishwashers over the years – the first being installed in a refurbishing project around fifteen years ago – I still wouldn't be without my sink.  On the last renovation project I completed the kitchen didn't exist as such – unless you counted an old stainless steel sink plonked unceremoniously in a corner; my final choice for the new sink (which included whether to bother with one or not) was ceramic.
If you are re-modelling, re-building or building from scratch, the kitchen sink will not be first on the priority list, but it will form an integral part of the finished design and it's important to take a few matters into consideration.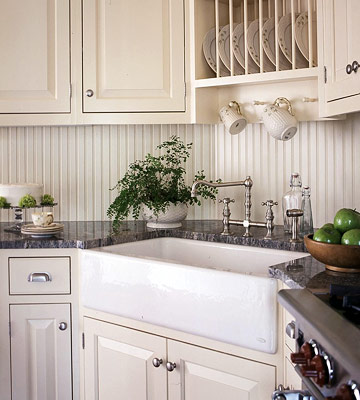 Do You Need a Sink?
As most homes now have (or will have when they're completed) a dishwasher, it's almost possible to consider not including a sink in the kitchen.  Apart from the most delicate glasses, occasional baking tray soaking marathons and vegetable and salad rinsing, the sink these days is not a major part of life in the kitchen.  If you're including a utility room in your design it's possible to banish the sink to that room alone; this can be useful where the kitchen is a small space.
However, for cooking and preparation purposes the sink does still hold a central role so if it's a large kitchen, relegating it to a distant room is not terribly helpful.
Throwing Tradition Out of the Window
You may think there's a law about the location of a kitchen sink – they must at all costs be under the window.  This is, of course, untrue.  Tradition has it that the sink is placed below the window to make washing up slightly less boring.  In truth, it's probably more to do with the need for drainage to be located against an external wall.  In neither of the kitchens I've built did I actually follow this rule and there are occasionally practical reasons for going against it.
Locating the sink against an external wall is easier when it comes to fitting drainage but it's not absolutely essential if you're completely creating the kitchen from scratch.
Drainage can be run under the floor if a central sink in an island is required.  If the window is large, with a low sill, placing the sink directly in front of it only makes sense if you're extremely short (or plan to make the kids wash up).  With a low sill you'll lose some of the expanse of window to units and sink if you locate it here.  Which ever location you choose think carefully about the space you're working with, how it will work in future. However, don't feel the sink must be below the window.
Material Matters
A favourite size is a double sink, or one and a half sized option.  This has the flexibility to allow you to wash pots and pans while also cleaning vegetables.  Double stainless steel sinks are a good choice if space allows and the one and a half option is still workable even in small kitchens.  Materials may be partly down to the overall design of the kitchen and also personal choice.  In design terms I favour ceramic sinks but in practical terms stainless steel sinks have to win every time.
The most popular options today include ceramic (beautiful but prone to stains and marks), stone (super-hygienic and durable) and stainless steel (combining all of the previous positives and additionally being the most affordable).  Most sinks can be inset (into the worktop) or under-mounted. In the latter case the sink is placed on top of the surface and this can save on worktop space.
If you're choosing this route don't use laminate worktop material as it's likely to suffer water damage.  By undermounting a sink you'll lose the drainer (hence the increase in worktop space). However, you can place one over the sink as and when required.  While washing up was never anybody's favourite chore, a sink is an undeniable and usually very important part of your overall design.  Choosing the right material and the right location will make the eventual use of the kitchen far easier and functional.
Nick Thorping is a freelance writer and DIY property renovator; although favouring ceramic sinks in kitchen design he believes that stainless steel sinks are the best choice for many homes.