It's Never Too Late! 5 Good Reasons To Go Back To School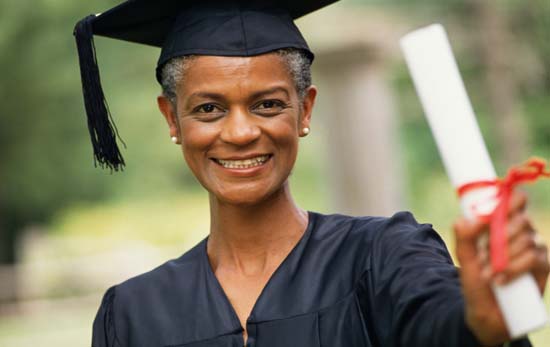 Does that steady job seem to elude you? Does it seem like it's taking forever to get your promotion? It might be the perfect time for you to go back to school. Earning a degree or a certificate might not guarantee success, but there's a link between higher education and increased personal benefits. Like millions of people, you could be on the fence in making the decision to return back to school. Here are five good reasons to take the plunge. Get motivated and get going!
1. A Degree gives you the Potential to Earn More
No doubt you've heard the same thing at every stage of life, "Get an education, and you'll earn more." It may not be the case for everyone, but there's enough evidence to suggest that at each successive level of education a person's earning potential increases. In fact according to education-portal.com, since the mid-1980s, education has played an instrumental role in potential wages, with individuals possessing a bachelors' degree earning an average of 66% more than those with who only hold a high school degree do. So whether you are pursuing  a bachelor degree in radiology or some other field, it pays to gain a degree.
2. You'll Lower the Risk of becoming Unemployed
While there will always be a significant number of people of people who are unemployed, those with a degree have less to fear. According to statistics tabulated by the U.S. Bureau of Labor Statistics, education pays. The higher the education, the greater the likelihood of employment. For instance, a bachelor degree radiology would open a multitude of doors in the healthcare world, as opposed to simply pursuing a medical assistant diploma.
3. An Education can Increase your Career Potential
While a degree can increase your earning potential, it can also increase your career potential. According to a report released by Georgetown University's Center on Education and the Workforce, 64 percent of the workforce will be required to have some post-secondary education by 2020. For millions of people, that date is just around the corner.
4. You'll Enjoy a Better Outlook on Life
Higher education on and a greater outlook on life go hand in hand. Your education can influence where you work. Where you work will have an impact on how much you earn. How much you earn will have an impact on your lifestyle. This
5. You'll be a Better Role Model for Others
An education gives you better leverage to hope the same for friends, family members and even work associates. Studies show that children of parents who've pursued an education are more likely to attend college themselves.
Your education is important. It allows you to view life differently and plan and hope for things that might not be possible otherwise. It's your life! The decisions you make today will shape your future.