Huawei Honor 5x Vs Honor 6 Comparison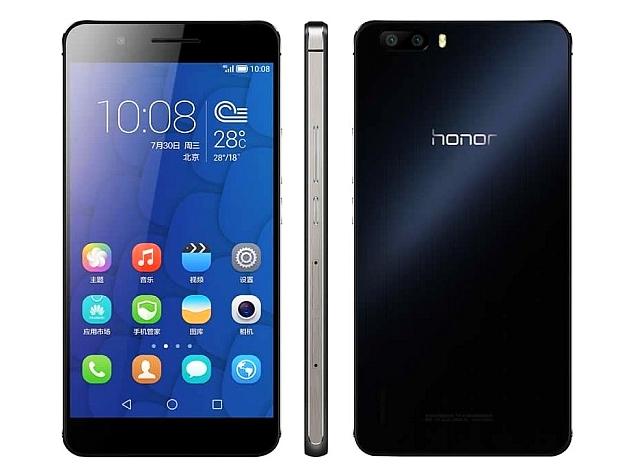 Huawei, the brand which faded in the limelight of popular budget phones, has made a strong come-back with its prolificHonor range. The company, after making major under-the-hood upgrades, has unleashedHonor 5x at just Rs. 12,999!
The new Huawei Honor 5X stands out under all categories, and look absolutely premium. It takes a dig straight against renowned high-end players including the new K4 Note and Moto G3, and is much better than its predecessor. But, it is worth noting that the phone sits very close to Huawei's year flagship, the Honor 6.Both phones feature an excellent set of specs, and sit close to each other with a very small difference of pricing. So, our question of the day is, which is better? The new Honor 5X or the old Honor 6? We know both are stupendous masterpieces, but here's a detailed comparison to pick the better one!

Design and Build Quality
Both phones come from same manufacturer but their design standards are just opposite. The new Honor 5x flaunts a metal body with fingerprint sensor on the rear panel, while the elder siblinglooks just like a fake chid of iPhone 4s which pretends to have a glass back, but is actually made entirely from plastic.Having said that, we can easily deduce that Huawei's design standards have come a long way from last year, when it used to offer a plastic made phone for a price well above 14k.
In our opinion, Huawei Honor 5x with a sassy metal body and fingerprint sensor is a decent package to look at, while Honor 6 with a dull plastic body is highly uninspiring and boring. It stands nowhere near Honor 5x!

Display and Visual Experience
With no major difference, Huawei Honor 5x and Honor 6 both deliver stand out performance with their full HD display panels. Both budget beauties pack a strong punch in the display department, and go head-to-head with rich colour reproduction, perfect viewing angles and better contrast levels. They both look very similar except for the screen-size, which is slightly more on the 5.5-incher Huawei Honor 5X. Honor 6 flaunts a sleek profile with a small 5-inch display!
Hardware and Performance
Up here, the face-off gets very close between the two phones. The new metal beauty Honor 5Xpacks a powerful Snapdragon 615 Octa-core processor with 2GB RAM, while on the other side, Honor 6 packs company's proprietaryHiSilicon Kirin 920Octa-core processor with a whopping 3GB RAM. Both phones are very good at catering moderate and heavy usage requirements, but in our opinion, despite housing an old gen processor, Honor 6 will be a better performer against Honor 5X.It handles heavy games and multi-tasking with perfection, and is definitely one of the best choices for gamers and high-end users.
Software
On the software front, both phones are running Android 5.1 Lollipop with Huawei's custom EUI 3.1 with a bunch of tweaks and customization options. The interface of both handsets is pretty clean and easy to use, but Huawei Honor has an added advantage of Android 6.0 Marshmallow update.Despite being the older one, the elder sibling will get Google's latest iteration of Android with a bunch of new features and performance improvements.On the other end, there's no word on Marshmallow update for Honor 5x.
Camera
To everyone's surprise, Huawei Honor 5x sports the same camera setup that ships with Honor 6. Both budget beauties incorporate a superb 13-megapixel rear and 5-megapixel front-facing shooter, and deliver sharp and colour-rich images with reduced noise levels.Theirrear camera features a 28mm lens with an aperture as wide as f/2.0, while front-facing snapper ships with an f/2.4 aperture!So, you'll get a nice photography experience with both phones without any snags or delays in focusing.
Fingerprint Sensor
Advanced fingerprint scanning technology draws anessential line of difference between the two phones.The newHonor 5x comes with a snappy and responsive fingerprint sensor. It brings benefits of advanced biometric security, and plays a significant role in keeping your personal data safe and secure.It can also trigger different functions just from a single touch of your finger at the sensor (like WhatsApp from index finger and Facebook from left index finger). Huawei Honor 6 includes no such featurefor launching apps or preventing unauthorized smartphone access!
Battery
As for power-efficiency, there's no big difference between Honor 5x and Honor 6. The new Honor 5x sports a 3000 mAh non removable battery, while its elder sibling comes with a slightly bigger 3,100 mAh powerhouse. On paper, they have a difference of 100 mAh, but real life performance is absolutely similar. Both phones will give you an entire day of moderateusage with almost 6 hours of screen on time. However, if you're a heavy user with gaming habits, they both will run out of power by the end of the day!
Pricing
In India, Huawei Honor 5x has been launched at a tempting price tag of Rs. 12,999, via Flipkart and Amazon, while Honor 6 is available just around 14k via Flipkart and many other online portals.Both phones are offering a nice deal, but it is worth noting that Honor 5x is receiving a good response, and is shipping with several launch offers from the company!
The Catch
In our opinion, despite offering strong innards, Huawei Honor 6 fails to make a strong impression over Honor 5x. The metal built handset features a much improved design with a fingerprint sensor, and caters all essential requirements of moderate users with complete perfection.
Honor 6 is still a good option, but for 14k, there are many more players which are giving a better package with good looks and top-notch performance. So, if you're looking for a power-packed smartphone under 15k, better take side with the all new Huawei Honor 5x, instead of Honor 6 or any other year-old smartphone!