Decks have grown massively in popularity in the UK over recent years and many people enjoy the extra dimension which they offer in the garden.
A good deck has some shelter and protection from the weather and is raised so that damp weather won't affect the timber. If your deck is looking a little lackluster, there are some simple ways to brighten it up and increase your enjoyment of it.
After a long winter, it's usual to find that your deck area is grubby and it might be in need of a new coat of varnish; before you decide if this is strictly necessary  give the boards a good sweep and then use some hot water and detergent to scrub it down with a stiff bristled broom.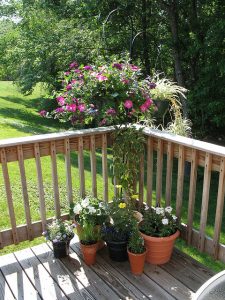 Once the deck boards are dry you should see clearly whether they need a fresh coat of varnish or not; choose a good quality outdoor varnish and apply on a calm, dry day.
When the deck is spruced up you can then begin to think about furniture and plants to brighten the area up even further. Seating on deck areas is a must and whatever your taste, you should choose the best quality outdoor furniture possible.
Low seating and a low table looks particularly stylish on a deck and the addition of bright cushions will offer a luxurious feeling to the area.
The idea of a deck is to further your indoor living space; a good deck is an extension of your home and needs careful decoration just as much as any living area does.
Hanging plants and containers of flowers or grasses look lovely on a deck and the protected nature of decks may allow you to grow some plants which otherwise might not thrive in your garden.
Heather look amazing when grouped in corners and ferns and ivy provide a magical green screen to cover exposed areas.
If you would like to add a fun element to your deck you could consider adding a hammock or a swing seat, children in particular would thank you for this addition and visitors will head straight for them. Another possibility is a small water feature near to your deck, the sound of running water is very relaxing and will add a magical touch to your time outdoors.
When it comes to eating on your deck there are a few things to consider; barbecues are not ideally suited to decks and they really need a paved area away from the house to be considered safe, but that does not mean that you cannot use your deck as a place to eat; a low table and chairs will provide a lovely informal place to enjoy meals with family and friends and some shelter for evenings when the weather is chilly.
Your deck should be seen as an extra room, a place to relax and chat, to enjoy your garden from the comfort of a sheltered spot where good seating and pleasant surroundings come together.
Put the effort into your deck when it comes to seating, soft furnishings and plants and you will reap the rewards season after season.
Look at your space objectively and consider the weather when choosing your seating arrangements. Which direction does the wind tend to travel? Which spot gets the most sunshine?
When you have taken time to arrange your deck in a lovely and thoughtful way, you will find that you have created a beautiful and tranquil haven for you and your family.