How To Determine The Best Sealer For Your Garage Floor
How do you determine what's the best sealer for your garage floor? The answer to that question will be based on your budget, whether you plan to hire a contractor or do it yourself, the way you plan to use the space, and the amount of time you can go without using the garage. With those variables in mind, consider the following options for sealing your garage floor.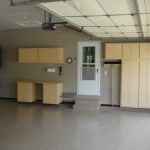 If durability, appearance and quality top your list of requirements, then you cannot go wrong by installing polyurethane or epoxy systems on your garage floor. They both look amazing but also offer maximum protection against oils, grease, gasoline, chemicals, stains, road salt, and water. The surface is difficult to scratch or chip, so it will maintain its appearance for many years. The strength and durability of these sealers are two reasons why they are also used in industrial settings.
While a multi-coat epoxy sealer offers many benefits, many homeowners rule it out as an option due to the cost and application. For one, it's expensive compared to other option. You'll need purchase the material and pay a contractor $4-$5 per square foot for installation. If you're confident in your DIY installation skill, it may cost about $600 to seal a standard two-car garage. You'll also need to put aside 2-4 days to complete the installation because it takes time for the epoxy and polyurethane to cure.
If you need to access your garage much sooner than the 2-4 days, the tough polyaspartic systems may be the right solution for sealing your garage floor. They are similar to epoxy and offer the same protection. You'll have access to the garage the day after installation, but it comes with a high price tag attached. Your contractor will install the polyaspartic at a cost of $6-$8 per square foot.
Another solution that falls within the category of epoxies would be epoxy paint kits. You can purchase these online or at your local home improvement store. The kit contains enough paint to apply a single coat to a two car garage along with some paint chips that you can sprinkle on top to add anti-slip properties to the surface. Keep in mind that although this is a cost effective solution, it is not the most durable.
Acrylic sealers provide the same glossy finish as epoxy cleaners without the added preparation. Apply the sealer to the bare decorative concrete coatings and you'll get mild to moderate protection against most stains, oils, water, and chemicals. You won't need to spend time preparing the concrete before application and it only takes a few hours to dry after it has been applied. The application will last up to 24 months after application.
There are many variables that will affect your choice of garage floor epoxy. If you can afford it, a multi-coat epoxy will be the best and most durable option. Consider the solutions provided above if you need a good sealer on a smaller budget.
Author Bio
Jake is a Structural Engineer who offers consultancy service. He is fascinated with decorative concrete and its usage,which inspired him to write this article.