No matter what your style is, your home decor can say a lot about you as a person. Contemporary or traditional homes both look best when there are plenty of lovely pictures, prints and art works on the walls.
The trouble begins when you decide that you don't want to have the same art as everyone else on the street but your pocket won't stretch to buying original art.
Some popular prints can be found very cheaply but who wants the same as everyone else? It's certainly more impressive to see a room full of unusual, one-off pieces than it is to be confronted by a wall of tired old prints.
If your budget is small, you can still enjoy unusual and beautiful art on your walls and you don't need to be Rembrandt to do it!
The first style of DIY art to look at is one of the simplest; embroidery hoop art. Embroidery hoops are wooden or plastic frames which snap together to help people to embroider tightly.
These frames are very cheap to buy and come in all kinds of sizes and finishes, From plain timber to black, white or coloured plastic they're easy to find and easy to hang too.
To make your own embroidery hoop art for your walls, source some unusual or beautiful fabrics…you only need a little and if you have any special pieces which you treasure such as old baby clothes or even wedding clothes, then all the better!
Make sure your fabrics are clean and pressed and then snap a piece in between the two sections of an embroidery hoop. Trim the excess fabric close to the edge so that no loose threads are visible and hang it on the wall!
Group contrasting sizes and prints together on one wall and the effect is gorgeous. Hoops are easy to hang, simply hook the back of the frame over a nail or tack. You can swap them around if you need a change or refresh them by changing the fabrics.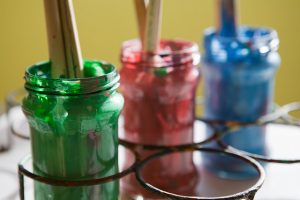 If you're looking for something lovely for your walls but don't fancy the look of embroidery hoops, why not purchase some cheap, plain canvas and get your paints out? You can use emulsion (why not try tester pots from DIY stores) or acrylic paints; Use a matte varnish to protect the paintwork once the canvas is dry.
Block paint the canvases in colours which suit your room's theme and group an odd number together; play around with the placement until you are happy with the effect.
Colours which make a real impression together include teal, pink and white, red, orange and yellow, black, white and pink, and green, blue and beige but you can choose any colours which appeal to your sense of style.,
You can go large or keep it small, the effect is fabulous in a contemporary setting and even works well in a child's bedroom or along a hallway or staircase.
Art is such a personal thing that sometimes creating our own is more satisfying than buying expensive originals from galleries or shops.