How To Avoid Car Accident Scams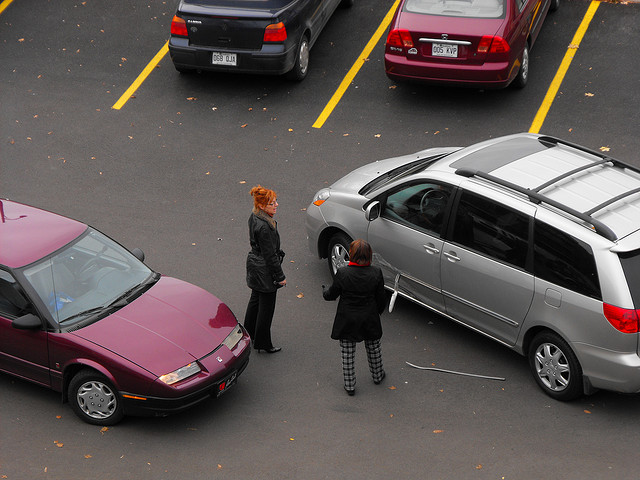 We've all heard about the "bash-for-cash" scam going around the UK at the moment.
This fraud involves a car purposefully braking sharply so the vehicle behind it bumps into the bumper and a claim can be filed for motor damage and whiplash.
But that isn't the only trick on the market and criminals are becoming more clever in the way they exploit other drivers' trust.
This year it has been reported more and more fraudsters are resorting to a new technique called "flash for cash" where the perpetrator flashes their high beams to let someone pull out from a side road – only to accelerate quickly into the side of the moving vehicle.
While witnesses would confirm the scam if they saw a criminal flash their headlights, this is normally not possible and as such, the police will presume the person coming out of the side road is responsible.
So how can you make sure you do all you can to avoid being on the receiving end of a hefty future insurance premium?
Don't trust other drivers
This might sound cynical and, to an extent, it is, but the rise of faked whiplash claims and driving scams mean there's no point in leaving anything to chance, so wherever possible, avoid putting yourself in a position where you can be exploited.
If someone flashes to let you pull out, use your discretion as to when this is appropriate. If you are attempting to merge onto a busy road in broad daylight and other motorists will clearly have seen the other vehicle make room for you, it is probably safe to slowly pull out.
However, if you are travelling along a dark road at night, with no other people around, it's nearly always better to simply wait for the car to pass and follow along behind them.
If you see the same driver do this consistently in your area and they act suspiciously, it would be wise to let the police know on their non-emergency 101 number, as any future victims could have their claims corroborated if you have been on the receiving end of a scam attempt.
What the experts have to say
Detective inspector Dave Hindmarsh from the Metropolitan Police has taken to the media on repeated occasions to spread his words of warning about flash for cash scams.
The police officer told the BBC: "The problem is a growing problem. Financially it costs insurers £392m a year – that impacts on motorists as it's an extra £50 to £100 on every person's premium so that's a financial cost.
"[There are] emotional costs [as] if you're involved in a crash you could well lose your confidence and if your passengers are children they may well become wary of being passengers in cars, and of course you may get injured or killed."
Meanwhile, the Association of British Insurers (ABI) has also outlined its concern about the scheme, which is costing its corporate members millions of pounds a year.
Nick Starling, director of general insurance at the ABI, said: "The insurance industry, working with the police, is doing everything possible to protect honest motorists from this serious and costly crime. Any driver who suspects they have been the victim of one of these scams should contact their motor insurer and the police immediately."
What to do if you fall for a flash for cash scam
If you have been hit by a car after it flashed you out and you think the offending motorist is perpetrating a flash for cash scam, the AA has urged you not to admit liability at the scene.
This is one of the most common problems involved, as our apologetic British nature means we often say sorry for things that aren't our fault and this could land us in legal trouble as well as being out of pocket.
The AA also advises you call the police as soon as possible and let the fraudster know you intend to do this, as they may back off or even flee, which will leave you in a substantially better position to stake your claim.
It is also vitally important you take pictures of the crash scene and swap insurance details – while avoiding accusing the other motorists of being a scammer, as this could cause an unwanted altercation.
Featured images:
License: Creative Commons
image source
Francesca Witney writes on behalf of Slater & Gordon Lawyers.