Great Ideas For Last Minute Family Getaways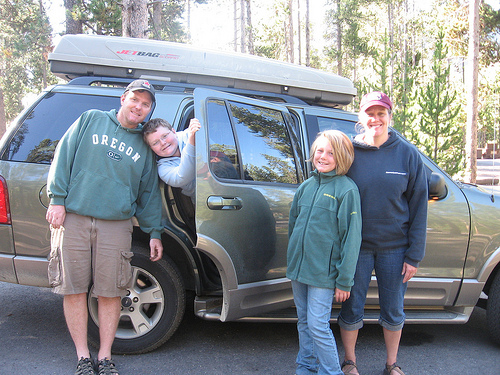 The school summer holidays are almost upon us and if you're still scratching your head as to what to do with the kids this year then you best hurry as time is running out. Often we leave things right up until the last minute and from procrastinating to having far too much work to do, there's always something that gets in the way.
The best advice is to put aside an evening to write a list of where you'd like to go and what you'd like to do and then book a trip online right there and then. This is not quite as impulsive as it sounds and often some of the best ideas come to you when you place yourself under a little bit of pressure.
Below are five great options to get the ball rolling and no matter what you end up deciding on, I hope you have a great time away from home and the sun shines merrily on you and your family.
Camping in France
Just across the Channel from the UK and presenting no end of options for family holidays, France is one of Europe's premier destinations. If you've never been before then you've got a real treat in-store as from the glamorous beaches and cities dotted along the Cote' d'Azur to the rolling hillsides and vineyards further inland, France is awash with beautiful locations. Finding a camp site couldn't be easier as the country is literally covered in them. With larger pitches, well-maintained facilities and often close to several cultural and kid-friendly landmarks – camping in France is a great idea for a last minute getaway.
Festivals in the UK
Glastonbury maybe over but there are still plenty of UK music festivals with a whole host of options for families. Camp Bestival in Dorset, Latitude in Suffolk and Croissant Neuf in Wales are all ideal for lovers of music and camping so if you're stuck for things to do then grab a ticket and head on over. Festivals such as the ones mentioned above have plenty of family-friendly things to see and do as well as their own designated camping area away from the hordes. This is a great idea to do something that everyone enjoys and from dance tents to climbing frames, each and every member of your family will have the time of their life.
Jungle Treks in Thailand
If you fancy getting out of Europe and experiencing a slightly more adventurous form of camping then why not head to South-east Asia and the jungles of Thailand? Even Bangkok is geared up for travelling families these days and if you can take a brief stop-over in the capital prior to heading up north then you won't regret it. Travelling overland is definitely the best way to get acclimatised and once you arrive in Chiang Mai (Thailand's northern capital city) you'll all be ready to head into the jungles. Elephant safaris, overnight stays and jungle trekking are all amazing ways to see the countryside and have a real family adventure so – what are you waiting for?
Theme Parks in America
This is probably going to get the kids' vote so if they've been really good this year then why not take them on their USA holidays to Orlando? Universal Studios, SeaWorld and Wet 'n' Wild are all on offer in Florida and if you're hoping for rides, slides and plenty of sunshine then this is the place to be. There's so much to do that you won't have time to worry about anyone getting bored and as you can stay within the realms of the theme park you get to enjoy the company of Mickey and his pals all day long. This is an excellent way to reward your kids for good behaviour and if you've been good too then why not tag on a tour of Miami or the Florida Keys just so everyone gets what they want.
Skiing in Italy
Of course, if you feel that you've left it absolutely too late this summer then why not start making plans for the winter holidays? Ski seasons start as early as November in some regions and celebrating Christmas and the New Year in a ski resort is something to really look forward to. The Italian Dolomites are a quintessential ski region for families and if you're hoping for log fires, cosy cabins and some darn fine pizza then there's nowhere better on earth. Nursery slopes, ice skating and toboggan runs all make winter holidays a great option for active families and are easily achievable even if you leave it right up until the last minute again!