The summer is finally here, and the holiday countdowns have begun and we are packing our swimming costumes for an all-inclusive holiday to a somewhere hot. Before we hop on that flight, have you resigned yourself to a week laying round the pool and drinking cocktails? Even though that does sound absolutely heavenly. It is important to exercise whilst on holiday too – and no I don't mean going for 5 mile morning runs along the beach, that would be crazy. However, regular swimming and walking on holiday will allow you to eat those blueberry pancakes for breakfast and not feel the tiniest bit guilty.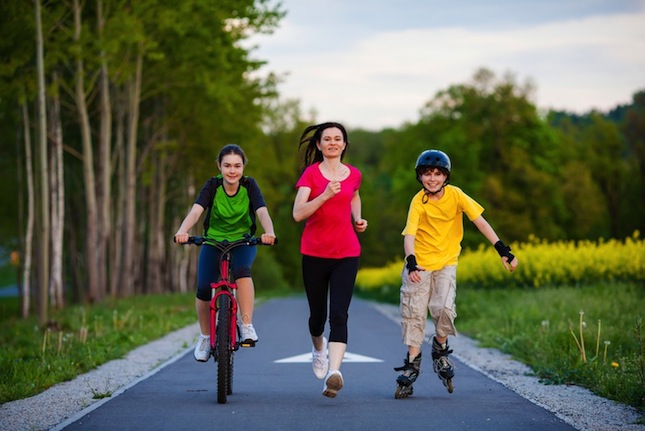 Stay Fit on Holiday
Every fancied getting active on holiday? Don't completely rule it out just yet. An activity weekend break can be a great place to meet new friends with similar interested to you, whether you are a couple or a single, it is an ideal place to go and not feel lonely on holiday, because I don't know about you, but my coupled friends just don't understand the daunting prospect of going on holiday alone – how boring too.
How about a tennis holiday? You can get the best of both worlds, by meeting new people and learning/or developing a new skill! If you're like me and you enjoy the competitive side of tennis, then you'll love practising the skill and playing your team mates. The break offers wonderful opportunities for professional tennis coaching sessions, which allows you the chance for some world class training. Not to mention the warm weather, these tennis holidays are located in areas which are guaranteed sunshine – who wants to play in the rain? Many of the accommodation sites also have onsite spas which you can use free of charge. Meaning after an afternoon of coaching you can relax round the pool, perfect your tan or take a trip downstairs to the spa and book yourself in for a massage to relieve the tension.
If this doesn't take your fancy, then why not try a hiking/walking/biking holiday? Recently I heard about a company which offered Swiss hiking holidays, and honestly, I couldn't think of anything more beautiful than hiking through the green valleys, stopping in a wooden chalet for a warm hot chocolate and a slice of cake.
Keep Fit at Home
Okay, now we have sorted the most important area – holiday! It is time to take that new found attitude back to your home, and try and adapt your way of life to suit your new found hobby. This doesn't have to be a dramatic change, perhaps just going for a walk round your local nature reserve on a Sunday? Biking to work three times a week? Or even joining a local club which means you can practise your new skills all year round!
Joining a local sports club will give you a new dimension to your life. It will give you something to look forward too – I don't know about you, but life can get pretty mundane if I'm honest and sometimes you need sometime fun to break that cycle or work, eat, sleep that so many of us seem to fall into to. Joining a club will also give you a bit of 'me' time – and we all need it, no matter how selfless you are! Not to mention the new social opportunities, from competitions, to training days, to BBQ's, to going out for drinks, to celebratory dinner and even holidays. Yes, you read that right. These clubs put on great fundraisers throughout the year to give the members a chance to go on holiday and play the sport they love with other enthusiasts. Whether its kick boxing, swimming, tennis or even pole dancing – find out where your local club is and go for a taster session (they are normally free anyway!), you really have nothing to lose and everything to gain.