When it comes to earning a degree online, there are many benefits gained. In fact, from earning an accredited education to being able to complete the courses from home, the advantages are endless.
Many people who are already working professionals choose to pursue an online medical degree because it allows them to maintain their present employment all the while furthering their education. Also, parents oftentimes go the route of earning an online degree because it does not deprive them of spending time with their children.
For those of you who are unsure as to the type of medical career you want to follow, thankfully, there are many types of online degrees that you can consider. From healthcare administration degrees to nursing degrees, there is something for everyone. Let's take a closer look at the different types of education you can earn online.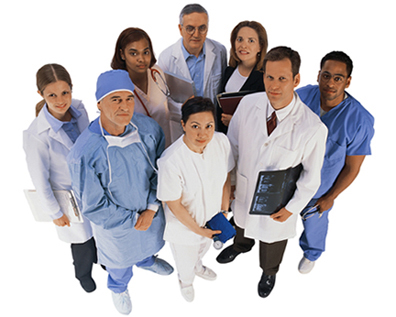 Hospital Administration
If you want to work in the medical industry on the administration side of the fence, you may want to consider pursuing an online degree in hospital administration.
A bachelor's-level degree in this field of study usually takes about four years to earn. During your studies, you will learn how to carry out a wide range of duties with most of them relating to the general management of healthcare facilities.
Coursework
Topics covered in this type of program will include the following:
Social Work
If you have a strong desire to help families in need of assistance, you will likely find much job satisfaction if you pursue the occupation of a social worker.
Some people don't think of social work as a medical profession, but if you look into the personnel employed through hospitals, substance abuse centers and mental health clinics, you will oftentimes find social workers.
You can earn either an associate's, bachelors or master's degree in social work through online programs; however, some of your coursework will involve taking part in supervised in-the-field training. For more information on a social services degree online, click here.
Coursework
Nursing
If you have a desire to work directly with patients in the medical industry, consider becoming a nurse. Online degree programs relating to this line of work can be earned in as little as one year; however, to become a registered nurse, you will need to take part in at least two years of study.
With a more advanced degree, you will notice more employment opportunities. No matter the level of online degree that you earn in nursing, you will be required to take part in supervised training.
Coursework
Topics covered during a nursing program will include:
Medical Billing and Coding
If you are desiring an entry-level position in the healthcare field that does not require you to work directly with patients, consider earning a medical billing and coding degree. In this profession, you will work directly with insurance companies and doctors' offices/medical facilities, processing insurance claims.
An advantage of this occupation is that you will likely work a set schedule. Online programs for this type of work will teach you about medical coding, ensuring that you can correctly process insurance claims.
Coursework
Reimbursement in healthcare
Ethical issues in healthcare
-Brandon Serna writes on topics related to business, healthcare and technology. He's interested in how people translate their particular talents and education into successful careers.