Metal Sculpting – Creating with Metal
Sculpting is a great hobby that broadens creative talents and skills. Metal sculpting ranks high among contemporary hobbies. Using laser welding makes metal sculpting safer while expanding the limits of metal creations and designs. If you are looking for an artistic hobby, but want to try something outside the standard options of sketching or painting, metal sculpting is an option to consider. There are a variety of ways you can sculpt the metal to create different artistic pieces.
4 Easy Ways to Do Metal Sculpting
If metal sculpting is a new hobby, take time to study this art form and its history. There are four easy ways to do metal sculpting:
1. Select the metal you plan to use for your creations
2. Focus on form and design
3. Become proficient with laser welding
4. Use welded features to add depth and character

Select Metals for Your Creations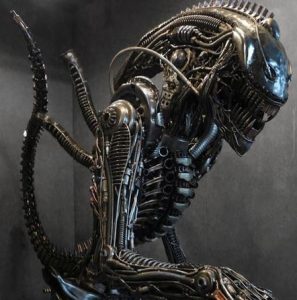 One way to advance metal sculpting techniques is to choose a metal that will become your sculpting signature. For instance, choose from tin, copper, titanium or scrap steel. Seek metals from recyclables to give them new life. Junk steel and other metals from scrap yards can provide the basis for many interesting metal sculpting projects. If you plan to sell your sculptures or display them at art shows, you may want to select a metal that represents your distinctive artistic style. Most artists stick to one signature metal, however metals can be combined and formed together to creative a new and distinctive look to a piece.
Focus on Form and Design
Each sculptor works with metals in a different way. Some plot a design before work begins. Others "sculpt as they go." All metal sculptors focus on form and design just as artists and engineers do. With metal sculpting, art and engineering are included in this diverse hobby. One of Picasso's famed sculptures consisted of parts from a bicycle. This is one example of the range of possibilities for the use of metals in sculpture. Become sensitive to how metal parts may be used. Each artist portrays a different idea or moral with their pieces. Artists who focus on the use of recycled metals generally create interesting pieces that can tell a story about their ideas on the environment.
Metal Sculpting and Laser Welding – A Marriage of Two Art Forms
Most individuals think welding is for industrial purposes only. Metal sculpting and laser welding changed that thinking. Beginners in metal sculpting need to study and become proficient in the use of laser welding. Formally known as laser beam welding, using a laser to join metal is a great tool for metal sculpting enthusiasts. The heat strike of laser beams fuse metal to create a deep, broader weld. Three of the most common types of laser welding are fiber, solid state and gas.
Weld Features for Depth and Character
Laser welding is often used to retain precision features and provide good cosmetic characteristics. Once a metal sculptor is confident about their laser welding skills, they can further expand sculpted features by shaping joinings and parts. Thus, laser welding adds depth and character to each sculpted piece.
If this is a new hobby or form of art for you, you may want to experiment with different types of design and methods of sculpting. Don't be afraid to be creative and try new things. You will eventually find a method you love and one that works best for your own creative ideas.