Exotic Dishes Of Indian Cuisine With Basmati Rice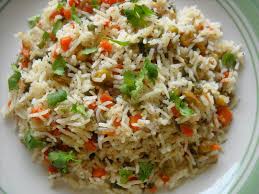 Rice is one of the basic foods of India. There are vast varieties of rice found in India that are used for different dishes and culinary delicacies in different parts of the country. One of the most popular varieties of the rice found and grown in India is Basmati rice. The Indian Basmati rice is famous all over the world for its fragrance and its long grains and delicious taste. One can use this Basmati Rice for making many different dishes including Pilaf, salads, puddings and many others. Here are the most common three dishes that are prepared from basmati rice in India.
Biryani: By listening name biryani one can't control themselves to eat such a delicious dish. It is made with different ingredients like spices, meat, vegetable, rice and many more things. Biryani has two versions consumed in India that are vegetarian biryani and non-vegetarian biryani. In vegetarian biryani, rice is cooked with potatoes and other vegetables. On the other hand, non-vegetarian biryani consists of chicken, mutton and other type of meat.
There is a variety of biryani found in different regions or cultures
Hydrabadi Biryani: It is India's most famous biryani. There is a various form of haydrabadi biryani one such as of Kachaygoshtki biryani and dumki biryani. It consists of ingredients like mutton along with Indian Basmati Rice, onion, spice, lemon, coriander leaves used for garnishing the biryani.
Sindhi Biryani:It is a special rice and meat biryani originated from Pakistan which is famous for its spicy taste, delicious meat and rice.
Thalassery Biryani: It is a biryani found in Kerala. The ingredients are chicken, rice and a huge amount of spices includes cashew nuts, garlic, tomato, onion, raisins, cloves and cinnamon and small amount of chilli powder.
It is impossible to cook a delicious biryani without basmati rice. So if you want to cook biryani of that taste which nobody forgets, then cook biryani with Indian Rice Basmati.
Boiled Rice: North India consume rice in most common way like rice boiled with salt, eaten with dal, or curry. In dhabas or in restaurants drainage method is used for making rice and at home simple absorption method is used in which measured quantity of water is used to prepare rice. A simple dal chawal(Rice) while eating giving feeling of delicacy when served with desi ghee and Rajma chawal. This vegetarian dish when made with paste of garlic, onion, tomato and other spices give tough competition to the non-vegetarian dishes.
Kheer:Dessertsare prepared across the world according to their own ways. Kheer is one such dessert which one can prepare according to their own ways with different ingredients and cooking methods. In India the grains of basmati are boiled slowly with milk, sugar, almond and raisins. Or if you want them more delicious then you can add some mawa/khoya, or any dairy products made with milk. To get sunset yellow color the world's most expensive spice named saffron(Kesar in Hindi) can be added.
Hence you can understand that rice plays an important role in Indian cuisine and a good quality of basmati rice can provide you energy to perform activity and makes you fit and healthy.