Excellent Educational Apps For Adult Learners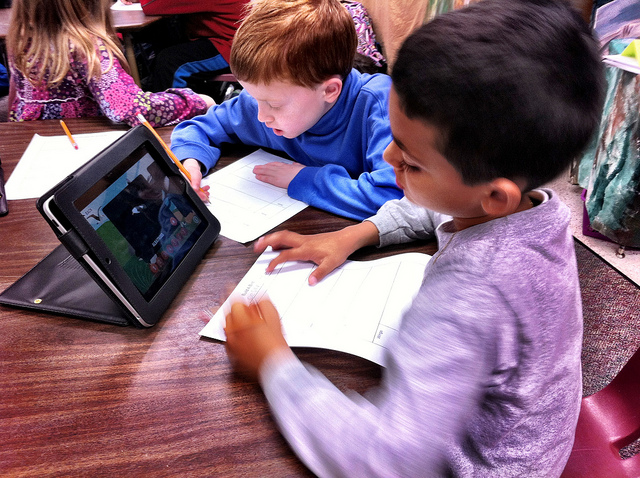 Kids are no longer the only ones who have an avalanche of apps—for reading, recognising shapes and colours, appreciating music or learning arithmetic—at their disposal. Educational apps geared towards adult learners have now become widely available, which teachers or workplace trainers can tap to make teaching and learning more efficient and enjoyable.
Due to their ubiquity and accessibility, mobile apps are increasingly playing a significant role in facilitating adult learning, especially in the development of core skills (Language, Literacy and Numeracy). However, with the vast array of apps offered in the market today, choosing the most valuable apps can be a tough task. If you're a teacher or a workplace trainer looking for some help, you've come to the right place.
Here is our list of top educational apps aimed at supporting the development of three core skills in adult learners:
Language
Language refers to the capacity of humans to convey and understand meaning through reading, speaking, listening, writing, and visual and non-verbal communication. It can also refer to specific language systems, such as English, Chinese, Portuguese, Hindi and others. Determining how language is or should be used in particular settings is essential for effective communication and in the achievement of specific goals. Below are some of the best apps that can help adults improve their language skills:
One of the top selling grammar apps today, Grammar App HD by Tap to Learn was developed to help improve one's English grammar, vocabulary and word selection. It features an interactive book, tutorials and practice exercises to assess and test one's understanding of English grammar and what has been read. From parts of speech to the use of punctuation, users will be able to review their skills and master basic concepts.
Looking for spelling challenges for your students? Spelling Bee by Socratica may be the app for that! Great for kids and adults who want to improve their spelling skills, Spelling Bee features over 2300 English words, along with clear audio clips and definitions.
The Chambers Dictionary app, developed by one of the world's most respected dictionary publishers, offers easy access to a rich stock of words and phrases of the English language. Whether you're looking for the correct spelling of a word, or simply want to learn a new word each day, this app is the tool for you.
Literacy
When people talk about literacy, they usually refer to the ability of a person to read and write. However, literacy involves more than just basic reading or writing. It also requires the integration of reading and writing with other skills such as speaking, listening and critical thinking to enable one to accomplish a goal, as well as to interact and communicate with one another. Here's an app you can use to boost your students' literacy skills:
Described by users as a "smart, clever and addictive" app, Word to Word app by MochiBits, Inc. is a free word association game that proves to be a stimulating exercise for the brain. Here, players are tasked to solve puzzles by selecting the right combination of words—whether they're antonyms, synonyms, or compound words. As a player progresses through the game, the puzzles get even more challenging and may feature words with multiple matches, so getting the right pairs can be tough.
The great thing about this app is that it can be downloaded for free and works on all iOS and Android-powered devices.
Numeracy
Numeracy is the ability of a person to understand and use mathematical concepts effectively in different contexts. This includes basic number skills, use of measurement, problem solving and spatial or graphical concepts. Many adults struggle with applying this skill on a day-to-day basis. Thankfully, there are many teachers trained in adult numeracy instruction—and various apps—for that:
As the name suggests, this app lets users flex their number skills for a fun and challenging math workout. Choose from different categories—Addition and Subtraction, Multiplication and Division, and more advanced math drills—to exercise the brain. Math Workout is free for all Android devices.
Although Math Evolve is intended for kids ages 6 and up, your adult students will definitely find this app equally entertaining and useful. The Story Mode offers a fun math adventure, while the Practice Mode features informative math facts. Math Evolve is available for Android and Apple devices.
Bonus: Helpful Apps for Teachers and Trainers
Aside from pursuing professional development courses, teachers and trainers can also enhance their skills and assist adult students better through adopting mobile technology. Here are some useful apps that you can explore to make your life a lot easier:
Dubbed as the Facebook of the education sector, Edmodo is an app designed to provide a safe and convenient way for educators and learners to engage and collaborate. Here, teachers can post assignments, track gradebooks, upload and share files, and more.
Educreations Interactive Whiteboard –
Whether you're a teacher or a workplace trainer, this app will surely come in handy as it transforms your iPad into a recordable whiteboard. Voice, text and photos can be recorded and shared to students fast and easy.
A treasure trove of "ideas worth spreading", the TED app is a great tool for educators who seek to inspire, motivate and spark the curiosity of learners. You can find a wide array of talks in various topics—from math, business, science, to the humanities— from the greatest minds of the generation.
Who says learning should only occur in classroom lectures or by perusing textbooks? With the wide array of educational mobile apps available for teachers, trainers and learners today, there's no reason why we shouldn't explore and start loading them in our smartphones or tablets.
Featured images:
License: Creative Commons
image source
License: Image author owned
By Debra Wright
Debra Wright keeps tabs on all things new in the world of Technology. Aside from using this information in her current line of work, she seeks to help and inspire others by writing about her newest discoveries. Keep tabs on Debra @debrawrites…