Designing The Perfect Craft Space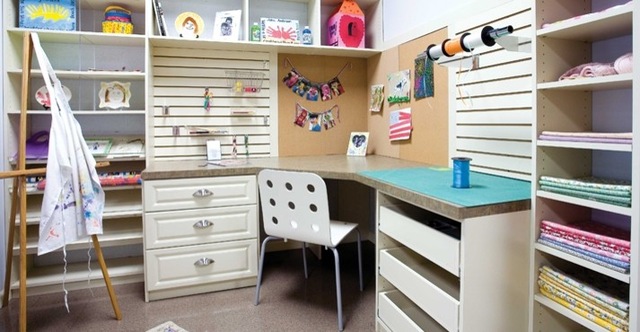 When it comes to the perfect craft space, the kitchen table has its limitations. For a start, it's right in the middle of the busiest room in the house, frequently needed for other stuff like family dining, homework, fixing bicycles (or is that just my house?), and it means you have to constantly be clearing away your craft projects to give way to other activities. If you are a serious crafter, it won't be long before you need a space of your own.
So what makes the perfect design space for a crafter? Unless you have the funds and freedom to move somewhere with a bespoke, in-house design studio, you'll have to work with what you've got. Those lucky enough to have a spare room will find themselves in a good position, as will those who can squeeze space out of attics, cellars, cupboards under the stairs, garden sheds and even alcoves on the landing.
Light Source
Once you've found your space, make sure there is adequate room to work. Whatever type of craft you do, a good light source is essential. Natural light from a window or overhead illumination from a roof-light works best when you are engaged in fine, detailed work. Wherever your main work surface is located, whether it's natural light or powered, flood it with plenty of light.
Solid Foundation
A desk or work table should be large enough to spread your tools and materials out as well as solid and firm. Adjust the height of the table so it is maximised for your comfort. For increased flexibility, a desk or work table that is collapsible or folds away neatly against the wall when not in use is a good idea.
Storage Secrets
Clutter interferes with the creative process, so include plenty of storage in your craft space. Places to store ribbons, buttons, beads, cards and all the other craft supplies you source from handyhippo.co.uk will be needed. Large glass sweetie jars lined up along shelves offer an elegant solution as they are transparent and spacious, too. Fit hooks, shelves and storage units close to where you are working so that you are not constantly standing up or stretching for the essential craft supplies from handyhippo.co.uk. In small cramped spaces you need to exploit all surfaces, so look up to the ceiling and consider the possibility of suspended storage or high shelves.
There will be some tools and gadgets that won't be needed all the time, so consider where these will be stored. Sewing machines, glue guns, painting equipment etc. all take up space – find drawers or cupboards where they can be easily accessed when needed. If small children are around, ensure there are places to put sharp scissors, craft knives, pins etc. out of reach.
Alternative Angles
If you don't have the luxury of a separate or spare room for your crafting endeavours, there are other options. A craft station can be successfully worked into the belly of an old, spacious wardrobe. Yes, seriously. Fit plenty of shelves into the upper part of the wardrobe to store your supplies, fix a work surface at sitting height and place a hook on the interior of the wardrobe door to suspend a foldaway chair. A well designed crafting station should have a place for everything so that everything can be tidied away when you have finished and concealed by the wardrobe doors when they close.
Identify areas in your home where empty space is being wasted. Some crafters exploit the cupboard under the stairs, others knock out chimney breasts for extra space or fix a curtain up at the end of the landing to screen off their work space. You are a crafter, by definition this makes you an imaginative, ingenious person – explore all the possibilities, if it's there, you'll find it.
Other Considerations
Make space on the wall for an ideas board where you can stick up inspirational images from magazines, photos etc. A mirror in the craft room is a good idea if you are making jewellery or garments to wear, it can also make small spaces appear larger and brighter.
Clearing up after a crafting session is quicker with an easily maintained floor surface. Laminated wood is easily swept or hoovered and can be wiped clean if spills occur.
Whatever your craft space, whether it's a corner in the garage or room at the top of the house, with a few easy tips you can find the perfect solution . Say goodbye to the kitchen table forever and hello to easier, happier, more productive crafting.