Asia Cup T20 Live Sri Lanka vs UAE : Qualifiers Against The Defending Champions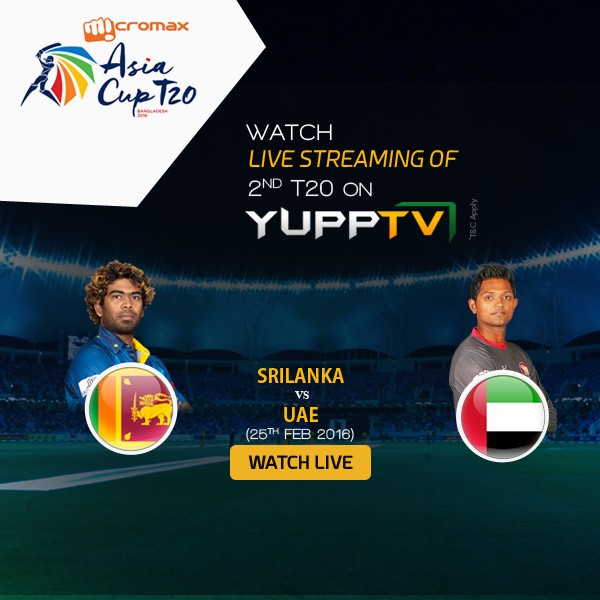 Finally the T20 Asia Cup is about to begin on the 24th February after team UAE collected raging victories in all the qualifiers rounds, U.A.E has clearly exceeded the form expected from them and established their place as the qualifier team for the tournament. Though Afghanistan was pretty determined to taste victory but they couldn't keep up with the target, and the UAE team put up an excellent display of their bowling skills to knock off all their wickets and win the match by 16 runs. After their initial victory they managed to hold on to their form and stormed their way through all three qualifier's matches defeating team Hong Kong and team Oman.
After securing their position in the tournament they now have other concerns, their next match will be Sri Lanka vs UAE which is going to be quite competitive for them. Sri Lanka has done lot of preparations and are also the defending champions, so they won't let go of this opportunity of kick-starting this tournament with a victory.
Unlike all the qualifier matches this one will be held at the Shere Bangla National Stadium in Dhaka which will be a new pitch that could give the bowlers an advantage, this may pose as a risk for team UAE as Sri Lanka is bringing in a strong line of bowlers including Lasith Malinga and Angela Mathews. Although overall Sri Lanka has named a lot of young players in their squad, this may bring new energy to the team but it also makes their performance much more unpredictable.
UAE needs to take advantage of all such small opportunities to emerge victorious through this match, though they are currently in excellent form this match will put a lot of pressure on them to perform. The team lacks experience for such big staged matches so it remains to be seen if they can handle the pressure of playing against the Asian Champions. However their coach Aquiq Javed knows a lot about these Asian teams and he will use all his experience to guide them, and the captain Amjad Javed is also quite determined to hold their spot in the tournament.
This game will give UAE the international stage exposure they need to prove themselves as emerging cricket champions, don't miss this intense match that rules Sri Lanka's fate for the T20 Asia cup. Now it is possible to watch this match online as YuppTV is presenting an EXCLUSIVE Live telecast of Micromax Asia Cup 2016 T20. All you need is a working internet connection and a simple registration to start enjoying the match.