AOMEI OneKey Recovery Review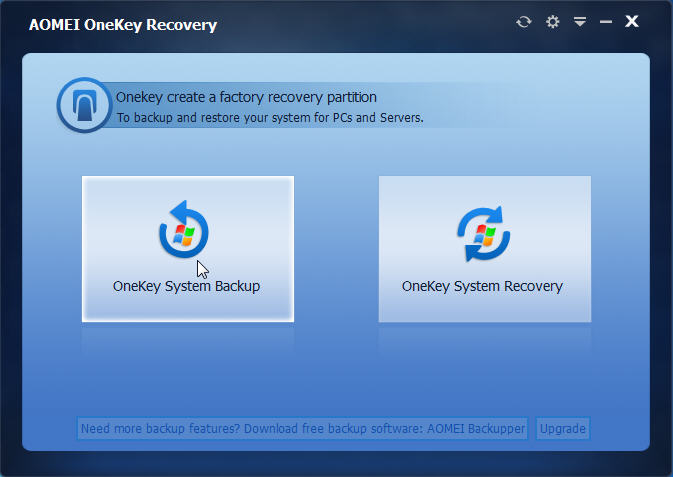 Have you ever suffered that your computer fails to boot due to system damage, displaying either "Boot Failure" or "Operating system not found" errors? In this case, you will have to spend much time to reinstall system as well as all your applications, drivers and any personal data, if you don't male a system backup image before. What's worse, your important personal documents, such as e-mails, photographs, music and videos etc will be lost if they are stored on the disk partition being recovered. To prevent the above scenario, AOMEI OneKey Recovery software was developed. It not only recovers your Operating System but also all your applications, drivers and all personal data to the same consistent state when the AOMEI OneKey Recovery image was made.
AOMEI OneKey Recovery likes Lenovo one key recovery, which is a kind of insurance policy for your computer. However, unlike other computer manufactures built-in system backup and recovery program, such as Lenovo, Dell, HP and Toshiba, only be used on their own computer brand. AOMEI OneKey Recovery is available for all kinds of machines, and it protects your system by making a factory recovery partition, make system backup and restore in case of your system crashes, and you can use it to restore your computer to its factory default or a previously backed up state by pressing "F11" (default) or "A" key during system startup.
As the picture shows above, here are two features of AOMEI OneKey Recovery,
System Backup: Select an existing partition to allocate a required amount of free space for creating a recovery partition, where a system backup image is saved. For preventing backup images from being damaged, the recovery partition will be hidden by default.
System Recovery: Restore your computer to its factory settings or a previously backed up state. It is the best way to return things to normal when a disaster happens.
Easy to Use
AOMEI OneKey Recovery is free utility available to make a factory recovery partition on your PC with a few mouse clicks. Even the novice users can use this software with ease. It takes care of everything from creating recovery partition to adding OneKey Recovery options to the boot menu. All you need is a free partition on your hard drive with enough space or unpartitioned space in order to create the recovery partition. After selecting a partition to use as recovery partition, it automatically creates image of your system drive. This process might few minutes to hours depending on the size of your system drive and PC's hardware.
Requirements
Supported Operating Systems
Windows 10/8.1/8/7/XP/Vista
Supported Storage Devices
Local disks, External hard disks, Solid state drives, USB flash drives, etc.
Supported Disk Types
MBR disk, GPT disk and UEFI Boot
Conclusion
All in all, AOMEI OneKey Recovery is a free and easy-to-use utility to create custom recovery partition of Windows and restoring your OS to its factory default or a previously backed up state in the event that something goes wrong with your computer and even when your OS cannot boot up. If you don't want to fell frustrated and spend hours of time to reinstall Windows operating system due to some unexpected reasons, creating a dedicated recovery partition with AOMEI OneKey Recovery is the best thing you can do. It's just dead easy.