7 Tech Trends Transforming Working Of Magento E-commerce Stores In 2018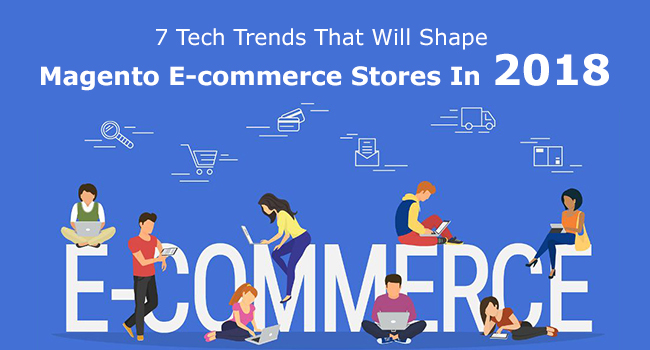 From the past few years, e-commerce is growing at a blistering pace. It is expected that if its popularity keeps rising, it will constitute one-third of all retail sales by end of 2018. So, it can be said that e-commerce is going to stay here for a long time.
If you are running an online store, the foremost important thing is to choose right platform like Magento for e-commerce development.  Being e-commerce is a very competitive domain, in order to move ahead with the changing times, second most important factor is make it future-ready. And this can be done by adapting and incorporating new trends which will give users enhanced shopping experiences.
7 Tech Trends Sketching Roadmap of Retail Success in 2018
Artificial Intelligence (AI) –

AI has already become a fad in 2017 and it will likely to revolutionize e-commerce selling in 2018. Artificial Intelligence technologies help in understanding users' behavior, dynamic pricing, strategies effective for targeted marketing and many more. E-commerce are increasingly adopting with these technologies at different verticals to obtain effective results

M-commerce –

After sensing e-commerce global trends, it has been sensed that mobile commerce is one tech trend that will continue to increase sales of Magento e-commerce sites to a great extent. Over 75 million shoppers

use mobile devices for discovering, research and making purchase instead of desktops or computers, and the number will increase in coming times.

Because mobile technology is fast becoming the central piece of shopping, thus mobile optimization is inevitable for increasing quality traffic and sales at your site.

Big Data and Analytics –

Big Data and Analytics is another trend that will shape Magento E-commerce store in 2018 in tremendous way by enhancing shopping experiences. Big Data comprises of data pertaining to behavior patterns and user demographics. Combined with analytics, the businesses are using it in real-time basis for making profitable business decisions.

Chatbots are Indispensable –

Besides AI, Chatbots are dominating Magento e-commerce site. Chatbots are smart software that uses the machine language technology for interpreting the customer's needs and feeding the concept of conversational commerce. In other words, it can be said that they are perfect substitute of customer care executive staff, who play a key role in online sales. In 2018, no company will take a risk to run Magento website or app without using Chatbots. So, Chatbots are here to stay in 2018 for sure!

Live Videos as Value-Addition –

Marketing via video content plays a prudent role in promoting businesses over different channels.

Reason being, of late, buyers prefer video promotion content over traditional marketing strategies. Live videos highlighting business' products, services, innovation, client testimonials help in building brand reputation and customers' trust. So, no wonder, if in coming times every Magento e-commerce site incorporates video marketing as an important promotion tool and spend major chunk of marketing budget over it.

Personalization Holds the Key –

The kind of recognition and warmth offered by brick-and-mortar stores is irreplaceable. Moreover, customers love to get personalized attention. Thus, personalization is one attribute which e-commerce stores must replicate to increase the rate of lead generation and conversion.

Push Notifications for User Engagement –

Engaging new users and re-engaging or retaining the existing ones are core principles of e-commerce selling. Push Notifications will become an important user engagement tool in 2018 as they engage their targeted customers in the most captivating manner. The notifications pertaining to new launches, special offers & discounts, etc., capture attention of users in the most sought-after manner and give them a sense of feeling that an online store values his/her association.
E-commerce is one domain which is fast evolving. For thriving successfully in the long run in online business and being recognized as winners rather than runner-ups, it is important to incorporate these tech trends and remain agile to adopt new technology with the changing times. So, if you are running Magento E-commerce store and want to give your business a technological leap, hire the expert services of www.webbeeglobal.com. The expert team of the company is well-versed with these trends and takes no time in creating your Magento e-commerce store packed with aforementioned features.
Summary – Mobile commerce, Artificial Intelligence, Big Data and Analytics, etc. are few technological trends that is expected to shape the Magento based e-commerce stores in 2018 and coming years.  In order to make your store future-ready, hire e-commerce development services of expert service providers, who know how to make an e-store future-ready.
Shopify e-commerce website development Services by WebBee Global best-in-class and globally offices in USA, UK, Australia and India for better support in your city. You can hire our Shopify expert developers on hourly, daily or weekly basis to reduce your business cost or running projects. Our e-commerce web development services in Shopifyenables you for customize Shopify theme development for multiple verticals of ecommerce business.