5 Adventures For All Ages In Paphos!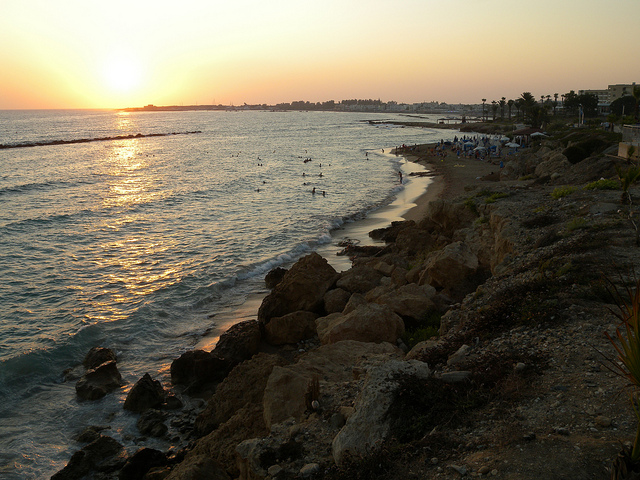 Let's Visit Exclusive Places in Cyprus!
You cannot miss an opportunity to visit and explore the remains of ancient villas, palaces, old theatres, fortresses and tombs of kings, architectural buildings and beautiful resorts.
Find some time to see Nea Paphos mosaics which belong to the best one on our planet!
1. Drive a Unique BOB Vehicle in Undersea World!
Location: Cynthiana Beach Hotel, Tombs of the kings road, Paphos, Cyprus
GPS position: 4.764475, 32.412434
Working hours: Mon-Sun 9.00-17.00
Ticket options:  Adult – 45-55 Euro; Children 7-11yrs – 35-55 Euro
Parking: Not available
Looking for a special experience? Here it is – an underwater adventure!
You can select two fantastic activities in the water.
The first is "Sea walking", where you can just roam through the bottom and admire all the beauty of the sea world. A helmet with air is comfortable, and you don't have to worry about anything. Just image how beautiful the sea is…!
You will be able even to feed fish, do not to forget some food for them.
The second is BOB adventure – so-called Breathing Observation Bobble. It looks like a small submarine and is equipped with an electric engine.
Make your trip easy and fun!
2. Fantastic Experience Driving through Bridge & Tunnels in Paphos Karting Center!
Location: Eratous Nouvelle Zone Activites, Paphos, Cyprus
GPS position: 34.772013, 32.429737
Working hours: Nov-Feb 10am – 6pm; Mar-May 9am – 9pm; Jun – Oct 9am – 11pm
Ticket options: 12-26 Euro
Parking: Not available
Be ready to have extreme fun while driving the sport car in one of the largest Karting tracks in the whole world.
The exclusive feature is that it includes bridge and tunnel tracks to feel more adrenaline!
Drive through corners and obstacles to be the first and win the race.
Different karts can be offered to any age level, for professional as well as for novices.
Try the fastest one "Thunder Karts" which can reach 120km per hour or "2 Seater Go-Karts" for 2 people with 100km per hour.
3. Feel everything in Real by Visiting 6D Cinema!
Location: Artemidos 23 K. Paphos
GPS position: 34.756634, 32.415209
Working hours: 24/7
Ticket options: from10 euro
Parking: Not available
If you want to enjoy the thrill and get unforgettable memories, then we advise you to try a new experience in 6D cinema!
Why is it so special?
You can actually transfer to the place of action.
For example, you are in jungle and it is raining – you will get a real shower, or you are on the edge of volcano – feel the smell of magma, or you are on the board of the plane which is crashed and falls down – seat vibration and wind are guaranteed.
3D glasses, real bubbles, leg ticklers, fresh water spray, super sound system and many other special effects will make you to live that film.
One film lasts 7 min but it worth to be seen!
4. A Real World of Entertainment in Aphrodite Waterpark! 
Location: Tourist area, off Poseidonos Ave., Paphos 8133, Cyprus
GPS position: 34.753051, 32.420344
Working hours: May – June 10:30-17:30
July – August 10:00-18:00
September – October 10:00-17:00
Ticket options: Adults- 30 Euro; Children 3-11years old 17 Euro
Parking: Free
Aphrodite Waterpark is really fabulous and belongs to one of the most visited in the world.You will be amazed by all its natural beauty and attractions, from simple swimming pools for children like Pirate ship, Mini volcano, Mini bubble to Kamikaze, Twister, Wild water, Zero gravity.
Relax in one of leisure swimming pools, or go to various caves to find out hidden secrets.
Many places to eat like Fast food Cafe, Grotto kiosk, Food and bar kiosk are also in the park.
Amazing water slide, one of the biggest of its kind in Europe "Family rafting" must be visited here!
5. Spend One Fantastic Evening at Wave Dancer Ship!
Location: Main Harbour, Paphos, Cyprus
GPS position: 34.772013, 32.429737
Working hours: On Tue, Fri, Sat 19.30 – 23.00
Ticket options: Adults- €59; Children under 12 years old- €30
Parking: Not available
The last point of your splendid trip can be Fireworks Night Cruise.
Have a tasty dinner and enjoy watching amazing fireworks performed right on the board.
A musical dance show accompanied with live music will bring you pleasure and relaxation.
What can be better than an evening on the ship under the stars, it is so romantic!
A big bar offers to try various cocktails and a glass of sweet wine.
By the way, the ticket includes full buffet dinner with desserts, wine, entertainment show, and fireworks.
How can I get to Paphos Attractions?
Stop wasting your time in buses and find more suitable vehicle for yourself.
Let's save some money and get all you want: fast, comfortable, modern, with GPS and audio system car rental vehicle.
Saving and getting the best car is absolutely real. We offer you to follow the link http://cyprus.rentalcars24h.com/paphos-airport and enjoy your trip!
Visit as many places as you want and get only pleasant memories from your trip in Paphos.
Wish you to Spend the Best Time in Paphos!
Author Bio: Lily Berns is an enthusiastic travel writer. Currently she is doing research on finding the best and brightest things to do while traveling in different cities of the world especially for rentalcars24h.com