The remake of fairy tales such as Beauty and the Beast, Snow White and Maleficent have put a modern twist on some of the world's best loved stories, and our love affair with make believe shows no signs of waning. If you love all things magical and want to create an ethereal style that would be right at home in any fairy tale kingdom, why not use mirrors to make your mark around the home.
Fairy tale focal point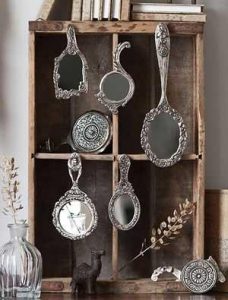 Hand held mirrors are a staple in any fairy tale princess story, and we love this idea of using them to create a focal point absolutely anywhere in your home.
Choose ornate mirrors, the more elaborate the better, and alternate them so that some display their decorative panelling while others show the glass. Think vintage silver, beads, pearls, embroidery, embellishment, and exquisite gilded handles, as this will provide the interesting details to your magical mirror art.
If you are an antiques lover don't despair if your beloved piece has broken glass; you can contact a supplier to create a made to measure mirror panel to fit your find.
Mirror mirror on the…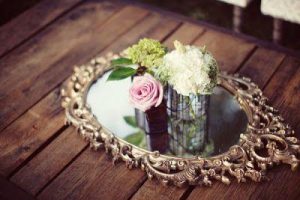 Who said that mirrors had to be hung on the wall? We love the idea of using a vintage mirror to create a stunning centrepiece for your table.
For a fairy tale style centrepiece choose unusual florals that evoke a sense of other world magic alongside English classics like gypsophilia and antique pink roses, or opt for an enchanted wood theme with natural willow and fairy lights that will reflect beautifully in your ornate mirror.
Whimsical Water Closets
The bathroom is one room where you will undoubtedly require the use of a mirror, so use one of a kind vintage pieces to bring the fairy tale back into functionality.
Why pick one mirror when you can have four? We love this whimsical collection of clocks, framed pictures and unusual mirrors that draws the eye up while still providing a perfectly practical space in which to freshen up.
The Secret Garden
One area that is often hugely neglected when it comes to décor is
your garden, and mirrors are the easiest way to add style and flair to even the smallest outdoor area.
We love this collection of rustic mirrors, antique frames and artefacts that add interest to a bare wall or empty corner. Decorate the area with trailing ivy, add some solar powered fairy lights and abracadabra! you will instantly transform your bland back yard into a magical secret garden.