4 Awesome Trail Mix Blends To Try On Your Next Hike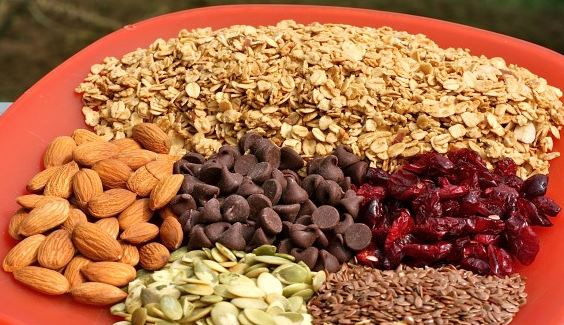 There's something so appealing about trail mix, and people of all ages enjoy this popular energy snack. The trail mix concept has been around since 1910, when outdoorsman and travel writer Horace Kephart suggested in his well-known camping guide to carrying along a raisins-nuts-chocolate snack combo. Since that time, trail mix has morphed into a variety of yummy mixes, giving people-on-the-go carbo energy from dried fruits and oats, as well as healthy fats found in nuts. If you hike often, buy nuts and seeds in bulk (http://www.sincerelynuts.com/p/White-Quinoa), so they are available right when you want to mix up a big batch. Store your mixes in airtight containers or resalable bags for up to two weeks.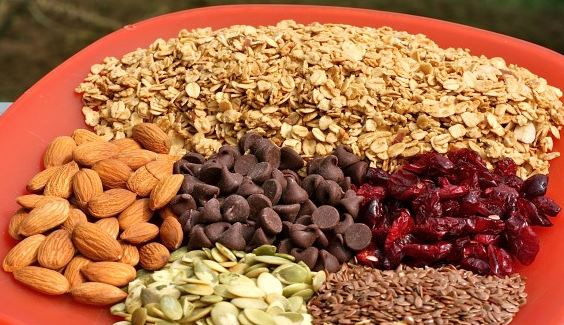 Dark Chocolate Trail Mix
This one delivers protein and naughty sweetness in a super healthy snack. Prep time is 5 minutes, and worth every second putting together.
Ingredients:
2 cups mixed, dried fruit and/or berries (apricots, cherries, sweetened dried cranberries, blueberries)
1 2/3 cups dark chocolate chips
1 1/2 cups mixed nuts (almonds, walnuts, cashews, pistachios)
1/2 cup sunflower seeds
Instructions:
In large bowl, mix all ingredients together. Enjoy.
Simple S'Mores Trail Mix
S'mores are one of the all-time favorite outdoor snacks. Our versions just as sinfully rich with a major carbo boost.
Ingredients:
3 cups golden graham cereal
1½ cups mini pretzels
2 cups mini marshmallows
1 cup chocolate chips
Instructions:
Combine cereal, pretzels, marshmallows and ½ cup chocolate chips in large bowl.
Lay mixture out on parchment paper. Melt remaining chocolate chips in microwave. Take spoonfuls of chocolate and drizzle over top of mixture. Allow chocolate to set and break into pieces.
Sweet 'n Savory Popcorn Trail Mix
What a crunchy, salty, sweet and savory blend! This is a super fiber-protein-carbo load for kids and adults.
Ingredients:
5 cups popcorn already popped
1 teaspoon cinnamon
1 cup pretzels
1/2 cup dried cherries
3/4 cup cashew pieces, salted
Instructions:
In large bowl, sprinkle popcorn with cinnamon and mix in pretzels, dried cherries and cashew pieces.
Gone Fishin' Trail Mix
Quick and easy with a modern twist on the traditional mix. Kids will love this one!
Ingredients:
1 cup goldfish crackers
1 cup toasted-oat cereal with nuts and honey
1 cup pretzel sticks
1 cup raisins, dried tart cherries, dried cranberries
Instructions:
Combine all ingredients in large bowl. Enjoy.
Trail mix is the perfect hiking snack and can be brought with you anywhere you go. Try a few of these recipes next time you head out!