Why Wicker?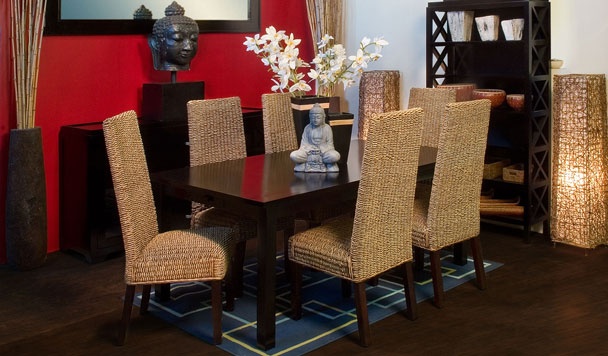 Wicker furniture is increasingly popular nowadays thanks to its combination of strength, style and comfort.
You can choose between wicker pieces that are designed solely for indoor use, outdoor use, or a mixture of the two –
and each type offers its own unique features.
Gone are the days when wicker meant slightly uncomfortable garden seats,
and here are the days when wicker means wonder!
There are so many different shapes, sizes, colours and styles of wicker furniture currently on the market that you can find items to blend into almost any décor and colour scheme.
And when you go for a reputable brand, especially for indoor furniture made from this woven fibre, you also get comfort and toughness on top of choice.
Given its history, it's little wonder that wicker continues to sell well.
Beautifully natural, often made from flexible branches of cane or the stems of rattan palms, wickerwork's roots date back to ancient Egypt.
Various wicker products have been found in different forms in the tombs of wealthy pharaohs, and the Romans liked wicker too.
It is probably for this reason that wicker spread across Europe as the Roman Empire expanded, and by the sixteenth and seventeenth centuries wicker furniture and items were fairly common across Europe.
In more recent times, its appeal hasn't faded – the Victorians, for example, preferred it to upholstered furniture as they believed it to be more hygienic.
Match it to your home
Unique in appearance, wicker furniture can look amazing in a living room, bedroom, conservatory or preferred room.
Simple yet stylish, wicker does not fight with other items but, provided the furniture is carefully selected, will complement and enhance the pieces around it.
Whether you want wicker furniture in its natural colour or painted to fit in with your decoration, the furniture should look elegant in its simplicity.
Each type of wicker, be it bamboo, cane or rattan, has its own style and qualities too. Size wise, you can find furniture to suit your rooms.
After all, you don't want big wicker sofas in a small room or they will dominate, and similarly smaller pieces in a larger room won't look right either.
Consider the space and shape of your room, as well as current furnishings and décor, to ensure you get the right wicker furniture for you.
Match it to your lifestyle
Wicker is light yet tough, making it ideal for family life.
Easy to keep clean and able to handle spillages or the elements if it's an outdoors version, wicker furniture continues to look good even after several years.
Plus it is comfortable, so you can relax on a wicker sofa or armchair and place your cup of tea on a wicker table,
safe in the knowledge that should your child or dog come charging through and knock over said cup of tea, it's a doddle to wipe clean.
Match it to your budget
Given how versatile wicker is, finding a type that complements your bank balance as well as home, shouldn't be too tricky.
When selecting the right wicker for you, keep in mind that there are some maintenance requirements and, in turn, costs involved in terms of waxing and possible repairs over time.
Featured images:
License: Creative Commons
image source
Nadine loves to write about creative subjects, such as making the home a more beautiful place.
Using wicker rattan furniture is one of those ways.