Why Creating An Online Brochure Is Simple and Effective?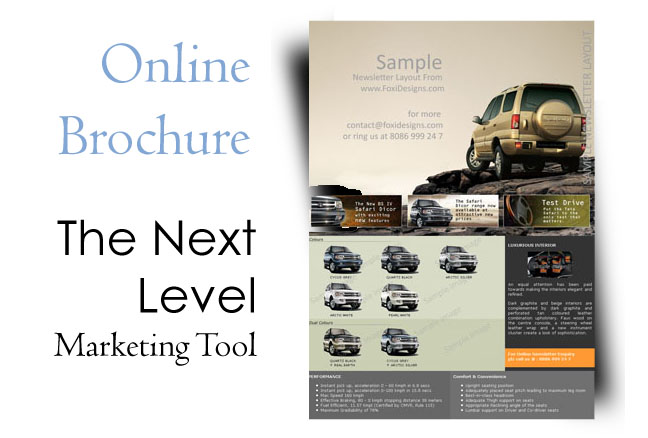 Have you ever thought that you would like to provide more information about your products or services but wondered how to do it? You have probably seen those websites which are crammed with image and information; the ones where you feel as though you are scrolling forever. This is not a good look for a website
If you want your website to be effective it should be clear and easy to navigate. This is fine, but how does it fit with needing to provide information? It's actually easy to provide all the information you need to while still maintaining a streamlined and great looking website. All you need is some flipbook information software, such as instant flipbook, and a relatively short amount of time.
Using Software to Create Eye Catching Online Brochures
Using flipbook animation software you can create eye catching online brochures which contain any information you want potential customers to see. This can include details of product releases or information about events, including video content. All you need to start creating your brochure is a software solution and a PDF to convert. You simply upload the PDF and click to convert the content into an impressive online flipbook.
Once you have created your flipbook brochure you can choose what other functionality you need. You may want to consider editing control and the ability to share your brochures on your website and across social media. You can read more about instant flipbook and see how easy it is to create a great looking online brochure.
Why using Online Brochures Makes Sense
The use of brochures to promote a product or service has a long history. Originally, hard copy brochures were used; indeed they still are today. The problem with this is that it's restrictive; you cannot reach your online audience with a hard copy brochure. This is why it makes sense to create an online brochure that customers, and potential customers, can view. Online brochures are created along the same principle as hard copy brochures but with some notable benefits.
One of the most obvious benefits of an online brochure is that it's available all the time, with just a click. You can also include video and audio content in your brochures; this turns reading a brochure into an interactive experience. It's also important to note that any brochures you create using flipbook software are mobile friendly. Given the large numbers of people who access the Internet using a smartphone or tablet this is a vital attribute.
You can see that creating an online brochure is an easy exercise. You do not need a lot of time to produce glossy and informative documents. It takes just a few minutes to upload a PDF document and convert it into a beautiful online brochure. Using this type of brochure is an excellent way of getting people interested in your product or service, and keeping them engaged.