What's The Best 10-Inch Tablet On The Market Today?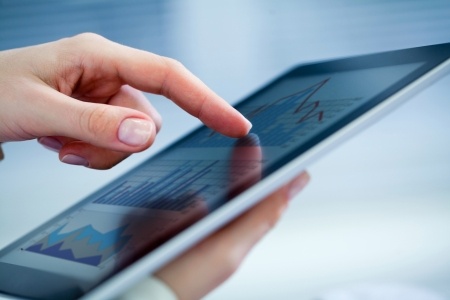 The market is flooded with tablets that work on iOS, Windows or Android operating systems, and buying one is a relatively simple affair. However, making the right choice may not be so easy because most 10" tablets are powerful, well-designed and backed by 1000s of positive reviews. So, hey, here's a quick guide that should help you pick the right tablet for your own needs:
iPad Air
Weighing just one pound, Apple's iPad Air is the lightest 10" tablet. The story does not stop there – this tablet is armed with a dual core A7 processor, which is ahead of quad core chips that are contained in its competitors' tablets. The chip processes data rather quickly and allows users to play games without facing any lags. Apple also allows users to download a suite of productive apps at no charge.
But iPad Air does not offer multi-window app support. That said, the tablet's speed makes it an ideal choice for gamers and folks who want a speedy tablet. Prices start at $499.
ASUS Transformer Book T 100
This is one of the best Windows tablets out there. It is priced competitively (under $400) and runs a speedy quad core processor. The battery can hold up for about 11 hours without a charge. The tablet is also armed with a keyboard dock. Productivity apps and lightweight games zip by very quickly, but the tablet slows down while processing heavy-duty applications. Think of it as a basic laptop while making your decision.
Sony Xperia Tablet Z
This is one very well-designed tablet that is priced at $450 and up – yeah, this is one pricey Android tablet. It is very lightweight, water resistant and comes equipped with an infrared blaster. It can moonlight as a TV remote, a convenient computer or a bedside/kitchen assistant. Powered with 1.5 GHz quad core Snapdragon S4 pro processor, and armed with 2 cameras, the Sony Xperia Tablet Z makes for a good looking tablet with an above average performance.
Microsoft Surface Pro 2
This is more of a Windows 8.1 Ultrabook (minus the keyboard) than a tablet. Its Core i5 chip processes data at high speeds and this is one tablet that can easily manage applications like video editing, large graphic files, music mixing or gaming. It contains a powerful battery that lasts for a long time and is also equipped with a stand that allows you to place the tablet comfortably on your lap. The price — $899 and up.
To Sum Up
A 10" tablet makes for better movie viewing and gaming. Reading ebooks and surfing the web on a 10" screen are also easier and more fun (than on a 7" screen). Typing is easier too. The only negative is the portability – a 10" tablet may be light, but it sure is wide and you may need a laptop bag or a backpack to squeeze it in.
Now about the best 10" tablet in the market – my vote goes to iPad Air. I like it for it's performance and applications, which make it a real value for the money.
Featured images:
License: Image author owned
Edison Lakey is a entreprenuer and technical blogger from Orange County, CA who uses a couple different tablets at home and in his office for everything from reading emails, to sending and receiving faxes on an iPad.