Top Reasons to Develop Chatbot for the Real Estate Industry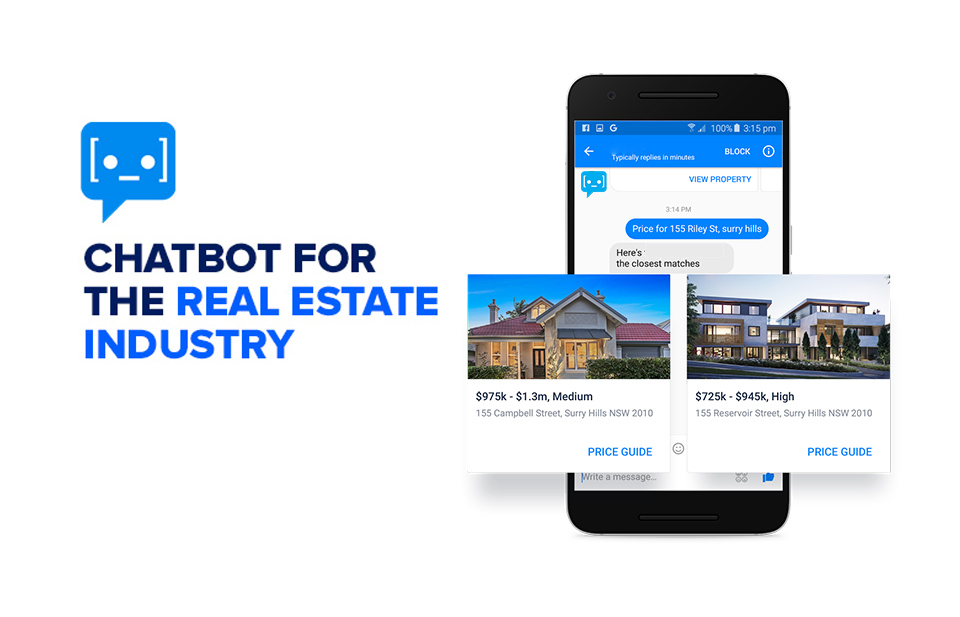 The success of any business depends on its ability to stay connected with their customers & resolving queries they have instantly from anywhere. This is where chatbot comes to action. Today, almost every digital platform is making use of chatbots to promote their business efficiently and get in touch with their users outside normal working hours. Ever since its existence, chatbots have truly evolved to reach every aspect of our lives. Let's find out how chatbots can help businesses like real estate grow faster with better customer experiences.
Making use of chatbots with Real Estate Software Solutions can revolutionize how people buy, sell or rent properties by providing 24×7 assistance. The main motive is to engage with customers according to their convenience & time since bots can address questions instantly without waiting time. Bots can be very effective in helping both real estate agents and customers by saving their time and money. Since most of the buyers and sellers are browsing online to get their desired properties, Chatbots will be a great help in building their sales funnel.
Here are the top reasons why Real Estate Industry must use chatbot solution to boost their business:
Having a chatbot ensures that users get what they need without delay thereby helping real estate team to capture a valid lead in their database. Since bot is available always, there is no chance to miss out on any leads even during non-working hours. Bots act as a powerful lead generating system that can answer the user's queries any time of the day.
Using just an online form, users cannot build trust with a potential client. However, with the help of Chatbot, stronger relationships can be built as chatbots will speak the language of the customers offering relevant information in an interactive manner. Real estate agents cannot be available throughout the day but chatbots can.
Online customers today want instant information they are looking for when they need it, at a click of a mouse or at a tap of the button. If chatbot can be present in multiple channels such as website, messenger, skype, slack, email, etc., real estate agents will be able to generate more leads through the same bot, getting in touch with customers wherever they are.
Once the conversation is started, users can schedule a property visit according to their available time slot through the bot. This will facilitate the introduction of the client and the real estate agent that will help in closing the deals quickly.
If the prospects are too eager to check out the property in person but too busy with their hectic schedule, the real estate bot can help. It enables prospects to take a 360-degree virtual tour through the bot itself without wasting their time for the physical visit.
By automating with the bot, several user queries can be addressed at a time, thereby generating more qualified leads. This will automatically log data into the CRM making new users buy/sell/rent property, saving time and energy.
Several questions may come up from the website visitors who are interested in buying/selling/renting property and this can make it difficult for the agents to answer them. Their queries can be a repetitive process, which is why chatbot is needed. The bot will easily solve the queries instantly and help visitors in buying/renting and selling properties.
All the information like preference in location, type of property, number of bathrooms, etc. can easily find out using the real estate bot, even when the real estate agent is not available. This makes it easy for website visitors to get relevant information on the desired properties, making it less complex to find the right home of their choice.
Automate Follow-Up Process
Following up on users who are interested in the properties can be a time-consuming task but not anymore with chatbots. Bots are used to follow up on the leads through the preferred medium users prefer. They can be contacted through email, message or direct talk with the realtor, as per their desired preferences.
With the help of Real estate bot, users' queries will be addressed throughout the day, since chatbot will be online round the clock, 365 days a year. This is not possible if we are talking about the realtors/agents since they have shift timings, which makes them available only within the working hours.
The chatbot is present everywhere in every business sector to provide the right information anytime through a conversational interface that automates communication with users. Most of the realtors are already making use of chatbot to meet increasing consumers' expectation from brands. Thanks to the rise of real estate bots built by the top Chatbot Development Company, which helps in keeping website visitors engaged with all the property information, images, videos & virtual visits as well. Many realtors are getting benefits from chatbots, as it turns visitors into prospects easily.
Need to build chatbot for your real estate firm? Talk with the bot experts to build one and avail the immense benefits.