Top 5 Careers In Computer Science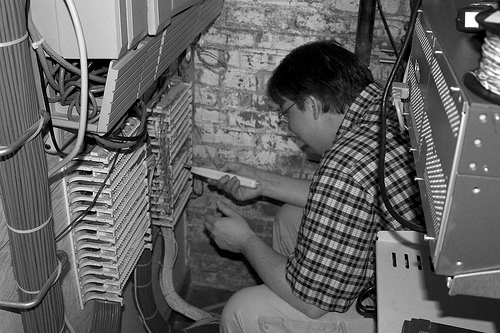 When thinking of a future career, many people will look at job demand and security in addition to salary. Although earning a high salary is nice, the earning potential means far less if your job can be lost quickly due to an abundance of applicants or a shortage of open positions. When taking these three items into consideration, finding a career field that will both pay well and be secure will become much more simple.
For anyone with a degree in computer science, entering the workforce can be difficult depending on the type of position you're looking for. While most computer science positions are on the rise, there are some career fields that are absolutely bustling with opportunity.
5. Network Administrators
Network administrators are in incredibly high demand. With networks continue to grow and expand at an alarming rate, administrators are needed to ensure these networks are well planned and continue to operate smoothly after deployment. With cloud data storage and processing capabilities on the rise in many businesses, network administrator positions are projected to have a growth of 30 percent over the next ten years. With an average salary of $69,000, becoming a network administrator is a great way to get started in the world of computer science.
4. Video Game Designers
Being an industry worth over $65 billion just last year, the art of making video games has become a very rewarding position. Not only are designers allowed creative freedom in many respects, they are also paid very well. The creation of a video game and its basic systems is not an easy task, but being able to create something from nothing while adding your own ideas into the final product is a very rewarding process itself. Of course, a salary of $80,000 never hurts either. With an estimated growth of 30 percent over the next ten years, video game design is an excellent choice for a computer science graduate.
3. Software Engineer
If you love coding and engineering, becoming a software engineer may just be your calling. Because of the increasing sophistication of computer systems, the need for software engineers is on the rise. Without a software engineer to create new programs to control production as well as other facets of a business, any business is almost certain to fail. With an average salary of $90,000 and a projected job growth of 30 percent over the next ten years, the world of software engineering is as solid of a career as it is rewarding.
2. Database Administrator
The world has come a long way since filing cabinets and paper records. With almost every industry utilizing databases to maintain important records and receipts as well as company secrets and other sensitive documents, the need for database administrators is increasing quickly. With a projected growth rate of 31 percent and a salary of $82,000 a year, creating and maintaining these valuable databases has never been more rewarding.
1. Mobile Application Developer
Mobile devices have absolutely exploded in popularity over the last few years. With the increasing capabilities and widespread use of mobile devices like smart phones and tablet computers, mobile application development is an exciting new field for anyone with a computer science degree. From useful applications that help to handle everyday tasks to mobile entertainment, a mobile application developer can look forward to an average salary of $95,000 a year along with a rising demand in positions of 32 percent over the next ten years.
Featured images:
 

License: Creative Commons

 

image source
Reggie Houston is a career counselor and blogger who enjoys writing about how students can obtain career counseling degrees online.