If you have an electrical problem in your office or home, you should not contact the nearest do-it-all handyman to do the repairs. More often than not, he or she won't be able to fix the problem, and if he or she does 'fix' it, it will be a makeshift jury rigging solutions that will cause additional electrical problems down the line. That is why you should hire a real electrician to do the get the job done right. This will save you a lot of trouble.
Choosing the right one can be difficult, though, because they are not all the same. Some 'electricians' might know as much about electrical wiring as the handyman, while others will overcharge you for their services. This guide will walk you through the things that you need to know in order to find the right electrician to repair your electrical problem.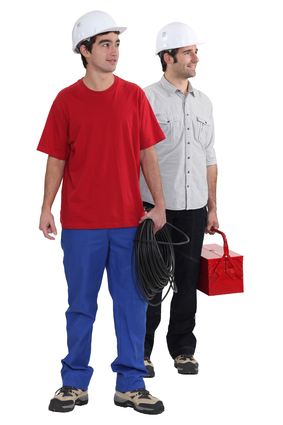 License
Making sure that you are hiring a licensed professional is the most important factor to consider when looking for an electrician. Before an electrician can obtain his or her license, he or she must take years of classes and undergo about 6,000 hours of on the job training. This process usually takes from 3-5 years.
You also have to be mindful of your location, because electricians' licenses are not universal. For instance, an electrician licensed in Canada is licensed to practice throughout the country, but in the United States, electricians' licenses are granted on a state by state basis.
References
Regardless of how many licenses an electrician carries, you will want to dig deeper to find out how good of a job they will do. Since electricians are usually local, it should be easy to ask around for references. Also, the internet has made it easier for people to publicly praise or decry the quality of an electrician's services. This will give you a better idea of how good the electrician is (or isn't).
Price
A person can be the most skilled electrical technician in the world, but if you can't afford their price, or you simply find their charges to be unreasonable, then it is all for naught. There are two things that you must consider when determining the cost of an electrician's services: The estimate cost and the price of the actual job.
Before you get to the cost of the actual repair services, you should find out how much the electrician charges for a consultation. Some won't charge you a dime, but others will charge you for an estimate, and this can range from a few dollars to well over a few hundred dollars.
Immediately after the consultation, the electrician will estimate how much the cost of his or her services will be. Keep in mind that this is an estimate. Although estimates are usually fairly accurate, they don't include taxes or any hidden fees that the electrician could slap you with later.
Linemen Versus Wiremen
Because he or she may or may not charge you just for showing up, you should make sure that the electrician is the right type of electrician. There are two main types: Linemen (outside high-voltage power lines) and wiremen (indoor low-voltage electrical systems).
Customer Service
Regardless of how skilled an electrician is, and regardless of how great his or her prices are, customer service is important. You are a valued customer—or at least you should be—so if the electrician is unprofessional or downright rude, kindly ask that person to leave.
Now that you know how to look for an electrician, you can go out and find the one who works best for you. We highly recommend the services by Mr. Electric if you are living in the Markham area.