Spiritual Sound Healing Chair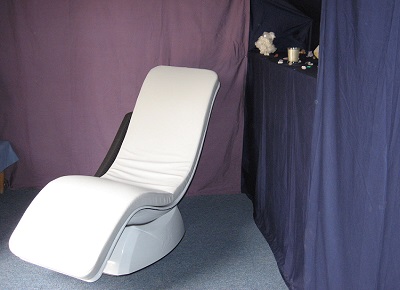 The world is a chaotic place.  Finding time for yourself is a challenge.  Whether you are working as an executive or multiple shifts, all the work impacts your body and mind.  Breakdowns, burnouts and psychological disorders can result if left untreated.  As science grows in awareness about mental illness, it is important to learn about this research.  Everyone can benefit from taking time out from busy schedules in small ways to begin a healthier lifestyle.
Stress in the present day upsets the natural balance.  It is neither easy nor possible to take a break into the natural world.  Meanwhile, the world keeps spinning and new challenges arise.  Advertisements in the mail, on the street, and on our cell phones are increasing all the time.  While this barrage on the senses increases every day, what alternatives can help you plug into a more relaxed state?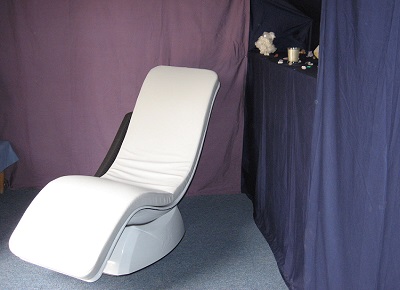 The Sound Healing Chair and How it Works
The healing chair offers a solution to this problem.  Therapy with the sound healing chair involves sitting in a comfortable chair while healing sound soothes the environment around you.  You can relax in a seated position or stretch out fully as you lie down.  A session can last about an hour.  With this method, it is possible to explore the spiritual world within you.  A sound healing chair session can open up the door to unknown worlds, memories from your past, and peaceful places in your imagination.  Attaining complete relaxation becomes a part of your life as you begin to work with the chair.
Effects on the Mind, Body, and Spirit
During a session, the powerful vibration of sound and magnetic energy are brought into the energetic field of the human body.  This method allows you to exist comfortably in a space between sleep and wakefulness. This dreamlike trance is akin to a spiritual experience which can relax your nerves & even help you find restful sleep.  An hour session leaves you feeling the sound in your body in the time beyond the chair, carrying the energy with you.  You may experience inner visions during a session.  Saturated by sound, your well-being is improved as relaxation gives you access to deeper emotional levels.
Make the Most of Your Dreams
Conscious Dreaming is a private retreat which offers a multitude of services such as dreamwork, visioning, & lucid dreaming, all through their healing center.  The healing methods enable you to achieve an enhanced level of awareness.  You can manifest your impossible dreams & discover what they have to tell you.
The BodySound session uses a sound healing chair that uses sound and vibration.  The body relaxes and becomes more attuned to peaceful surroundings.  After a few sessions, you may be able to explore lucid space between sleep and wakefulness.  This work brings your awareness to inner consciousness and returns your focus to spiritual thoughts.  The experience is the healing space we all need to free ourselves from the challenges of workaday life.  Go to Conscious Dreaming's private sound healing retreat page to find out more about spiritual healing and the sound healing chair.