Becoming a commercial truck driver is a dream for some people who want to get paid for exploring the country. Read on to learn how to break into the field of commercial truck driving.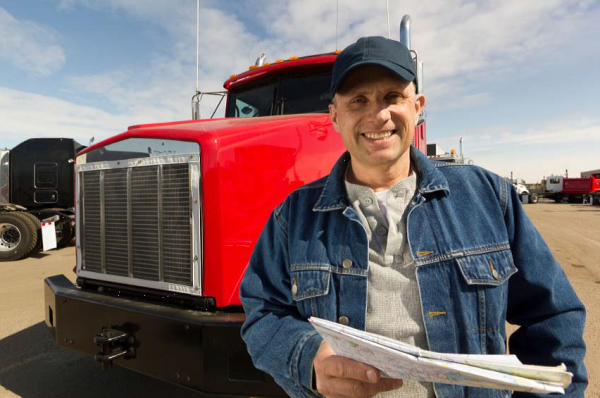 Get a Commercial Learners Permit (CLP)
Driving skills and experience are a must for breaking into commercial truck driving. The CLP allows the holder to drive on public roads with a CDL holder with them. Keep in mind that getting the permit isn't like a driver's license that just involves passing a knowledge test. Most state DMVs will check the candidate's driving record for the last 10 years in all states. Most state DMVs also require a DOT medical card, which candidates can obtain through passing their state's DOT physical.
Take the Federal Motor Carrier Safety Regulation (FMCSR) Exam
The FMCSR exam is the official title of the written and physical exam that candidates must pass if they want to find a good job. The FMCSR exam includes a written portion and a physical by an official medical examiner who will examine both sight and hearing. While the written test only needs to be passed once, the physical must be taken every two years. Learn more about the FMCSR on their website.
Obtain a Commercial Driver's License
The Federal Motor Carrier Safety Administration (FMCSA) sets the federal guidelines for CDL licenses. However, every state's DMV will be able to verify specific state-wide laws. For example, some states require special endorsements for trucks carrying hazardous materials while others require special endorsements for driving trucks with triple trailers. Most DMVs require people to pass an exam that covers laws, equipment and driving techniques. Similar to a driver's license, there will probably be a vehicle inspection and driving skill demonstration. Once you get your CDL and DOT number, you will then have to apply for trucking authority.
Lease or Loan a Commercial Truck
Buying a truck will help you break into commercial truck driving. A lease or loan will both require monthly payments and provide a rig, but there are notable differences between the two. A commercial truck lease gives you the right to use the truck as you see fit, but there are many rules that apply. The biggest benefit of leasing a truck is that most of the minor repairs and major maintenance jobs will be covered. On the other hand, a commercial truck loan from places like Arrow Truck Sales is like a car loan because you will own the truck once you finish making payments. Some truckers prefer a loan because a lease may end up costing more in the long run.
To wrap up, you can break into the field of commercial truck driving through getting a CLP, taking the FMSCA exam and getting a CDL.