Red Designer Sarees Are In Again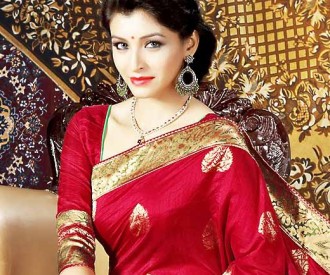 Whether it is your cousin's wedding or you have some posh party to attend, you can leave your worries at bay if you have got a red designer saree in your wardrobe. Preferred by top Bollywood actors like Katrina Kaif, Kajol and AishwaryaRai, these sarees are extremely desirable and in vogue. While we have admired these saree-clad smoking hot actors on screen, we have also had our jaws dropped whenever top models draped in red have walked tall setting the ramp ablaze.
Not just in Bollywood, the trend has gained acceptance even among top rated Hollywood celebrities like Halle Berry, Naomi Campbell and Victoria Beckham (as appeared in the media). However, it is not confined to the celeb community alone and is an absolute favourite of a multitude of other Indian women too. Whether it is a small occasion like a birthday party or a bigger one like a wedding or engagement ceremony, a red designer saree is going to add that much needed oomph to your looks. And when it is an occasion where you want to look traditional as well as gorgeous at the same time, you know what exactly you must go for. Although Black and blue are two equally popular colour options for a saree, they can surely not beat red when it is for a special occasion.
These sarees are available in various fabrics like georgette, chiffon, net and silk. Whereas chiffon and georgette are fabrics that Indian women have been devoutly wearing for ages as every day wear, net and silk are more commonly worn on special occasions. Fashion designers, however, have successfully blurred such lines between these categories. They make sure that even the simplest of fabrics look extremely high-end. And that is the reason why top designer red sarees, irrespective of the fabrics in which they come, are a little pricey. But if you are someone who is concerned about the quality, finish and style and is least bothered about the price, then they are for you. Drape one around and look like a diva. For others who prefer to see the price tag before buying something, there is good news. Many of these expensive sarees come with big offers and discounts. So, you can find one suiting your budget.
Make your purchase on some shopping website or hit a boutique in your town. You don't have to get disheartened if you live in a small city because a number of designer ethnic wear boutiques are cropping up in small cities also.
And in case you are a to-be bride who is thinking of wearing something really elegant on her wedding, then go for a red designer saree with heavy embellishment instead of lehenga-choli. You will not regret making that decision when people will come up to you to make compliments. It looks so feminine that you will fail to take your eyes off the mirror. Now you probably know how to add spark to your D-day.