If you're like the vast majority of Americans, you have yet to take your first trip outside of your home country. Although we make up some of the most affluent people in the world, Americans are notorious for staying put on familiar soil. Only 30 percent of us have passports in circulation, compared to 60 percent of Canadians and 75 percent of U.K. residents.
Isn't it about time you break free from domestic travel? Consider these three international destinations that are highly ranked for attracting tourists for a variety of reasons, from volunteer tourism and religious sabbaticals to ecotourism and cultural enlightenment. After you make one international trip, chances are you won't be able to resist getting another one on your calendar.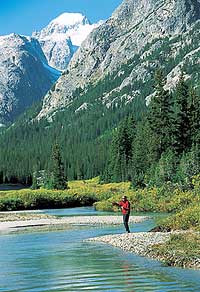 Costa Rica: EcoTourism
If the idea of savoring breathtaking views of mountains, volcanoes, beaches and rivers is enough to get you moving, Costa Rica should be among your top ecotourism destinations. The country, whose government promotes a "Peace with Nature" policy, claims a population that lives with more trees per capita than that of any other. The country is ranked as one of the world's top bio-diverse regions and boasts eight biological reserves and 20 natural parks with a stunning array of turtles, birds, fish and other wildlife.
If you go: Make sure you book any guided tours in the country through an agency with Costa Rica's Certification in Sustainable Tourism. This distinguishes reputable tourism companies that comply with high standards of sustainability. As with other international destinations, always check travel updates with the U.S. Bureau of Consular Affairs about the country to which you are traveling. Details will range from warnings to entry and exit requirements. It also is important to purchase travel insurance that will cover any medical expenses while you are out of the country. Some companies, like HCC Medical Insurance, offer travel insurance policies specifically designed for people who are planning international trips.
Note that most Costa Rican businesses, tour guides, transportation and hotels charge in U.S. currency. If you're on a mid-range budget, you can expect to spend about $75 to $100 a day, according to the Lonely Planet. However, you can cut those costs slightly by eating at less luxurious restaurants.
Cape Town, South Africa: Voluntourism
The impact of apartheid in South Africa continues to leave its damaging effects on the communities, long after the government-mandated segregation policy was dismantled. Today, many residents are impoverished and living in orphanages, homes for the elderly and other centers. Others are being cared for in health centers for the ill and disabled. Of course, there are plenty of opportunities to help with elder care and to teach young children in this area. You also will have the opportunity to take advantage of tours to picturesque Cape Town, which sits next to the majestic Table Mountain.
If you go: Take advantage of discounts offered to travelers who are combining international destination vacations with volunteering. For example, the site flyforgood.com offers discounted airfare to those who are assisting the communities to which they travel. Search online for volunteer organizations that can offer group discounts as well. These types of opportunities also ensure you're traveling in the company of like-minded people and with experienced tour organizers who, more than likely, have been in your destination country numerous times. You also will be able to select trips that match with how you prefer to invest your time, including teaching, building, community development, conservation or working with wildlife. Also, note that English is widely understood throughout Cape Town.
Rome, Italy: Historic Excursion
Do you dream of times gone by? By universal standards, America has beautiful historic sites but they can't measure up to the ancient artifacts of other countries like Italy. Rome in particular has standing iconic structures that date back to 80 A.D., such as the Coliseum, the Pantheon and the Roman Forum. In addition, you can explore various historic museums, art galleries and Vatican City's spectacular churches, which attract visitors from all over the world.
If you go: Before venturing to Rome, do research and make a list of the top seven to 10 destinations you hope to see while you're there. There are so many places to visit and lines can be so long that it's important to plan carefully beforehand. To save time, book your tours in advance online. Tour operators can provide you an extra measure of security as well as insight into which sites you can't miss. Since you'll be walking a lot, make sure you wear comfortable shoes and clothing. Also, make sure you're respectful of local religious traditions. Some churches may be reluctant to let you enter if you're wearing skimpy clothing, such as short shorts and revealing tops.
With so much to see and explore, there's no reason you shouldn't venture outside American borders to enjoy the people, cultural sites and opportunities around the world.
Todays Random Tip: A 100 % scientifically tested and proven formula to keep sharks away, Shark Shield is the preferred product for scuba divers. It's designed for all water sports.