Mumbai's Dabbawala Delivery Service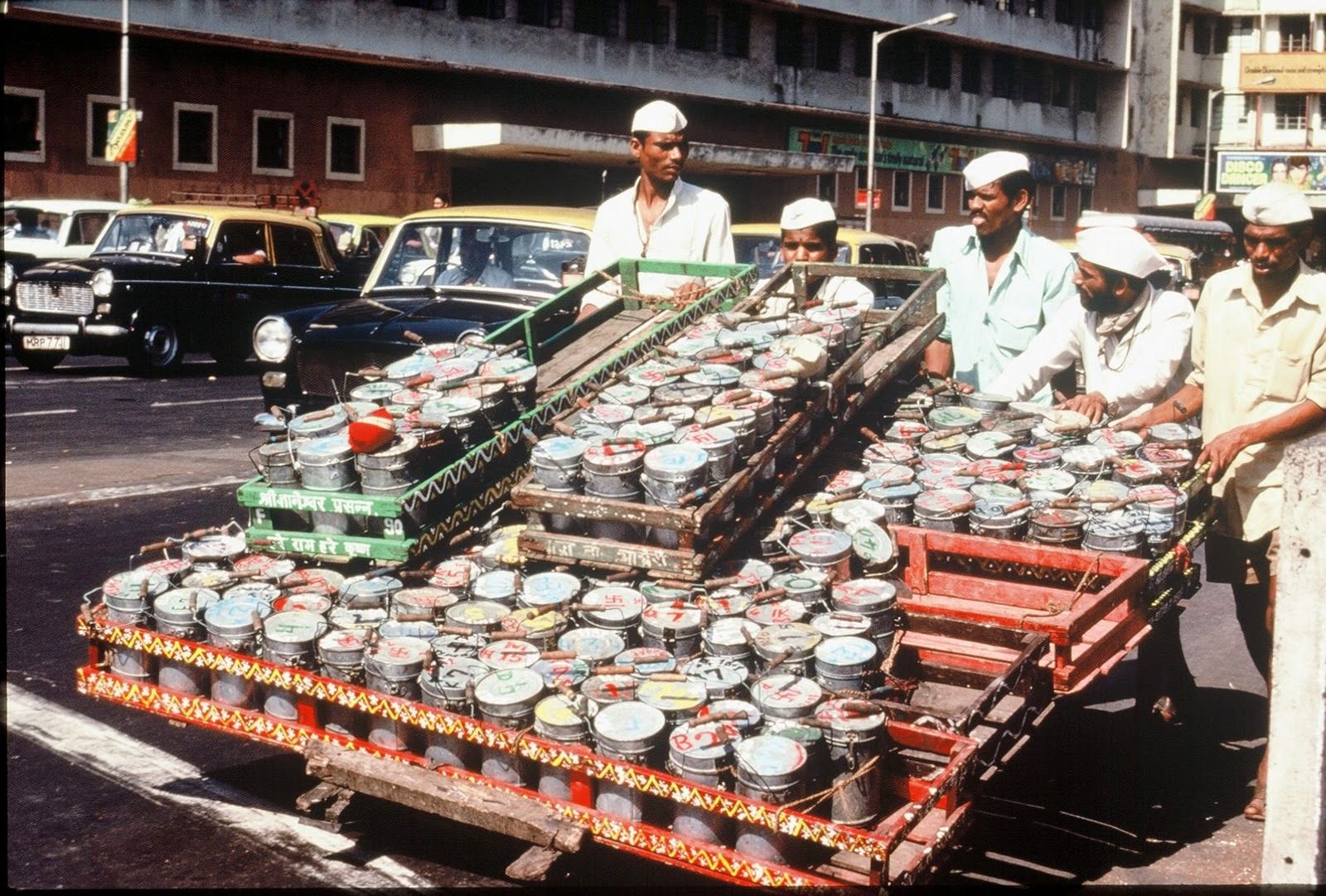 There's no doubt that modern life can move at a frantic pace. Despite the fact that India is a country steeped in history, culture and a culinary tradition dating back thousands of years, many of the big cities are changing at a rapid pace with the urban sprawl throwing up towering office blocks whilst businessmen 'do lunch' at increasingly imaginative and upscale restaurants.
However, in Mumbai, office workers that have neither the time nor the inclination to eat out at lunchtime can sign up to a system that will ensure they receive a delicious, home-cooked meal every day, come rain or shine. The workers of Mumbai rely on an intricate and efficient network of delivery men known as Dabbawala. Around 5,000 Dabbawala are thought to work in Mumbai, delivering 200,000 tiffin boxes daily to hungry workers around the city.
The name Dabbawala roughly translates as 'one who carries a box', indicating the metal tiffin box that traditionally carries a light, takeaway meal. This system was introduced 125 years ago when a banker in the city hired a local man to pick up his lunch from home and deliver it to his place of work. As more people migrated to the cities in search of work and a means to earn a living, the Dabbawala became a necessity, forming a link between home and work for those that began their commute before the ladies of the house were up and cooking.
The Dabbawala certainly sound like a hardy bunch – they pride themselves on weathering all seasons, including the monsoons, in order to ensure lunches reach their destinations. They also pride themselves on running a system that is so efficient that business magazine, Forbes, awarded the Dabbawala of Mumbai a performance rating that estimates out of every 6 million tiffins delivered, only 1 will fail to arrive.
Local Dabbawala pick up colour-coded lunch-boxes and tiffins from customers' homes, ferrying them via handcart or bicycle to the nearest railway station where they are sorted by hand before being distributed to various parts of the city. As the lunches arrive, more Dabbawala pick them up and deliver them to their ultimate destination and later, the network reverses, sending the empty boxes back to the homes from which they originated.
One of the elements of the system that makes the Dabbawala special is that they develop an in-depth knowledge of their local area and the customers they serve. This enables them to take advantage of a myriad of shortcuts and lesser-known routes around the city as well as developing a relationship based on trust, with people sending not only boxes of dahl, chapatis, rice and curries out to loved ones – but sometimes messages or other items too.
Proficient cooks are also taking advantage of the opportunities the Dabbawala provide – there is a living to be made by cooking up tasty meals and packing up tiffins for the busy professionals of Mumbai.
The authentic flavours of India's favourite recipes can be found in these lovingly packed delivery boxes and inspire the menus at some of London's best Indian fine dining restaurants. Book a table today and experience the traditional tastes of India tweaked with an imaginative and contemporary twist.