Movavi Video Editor Review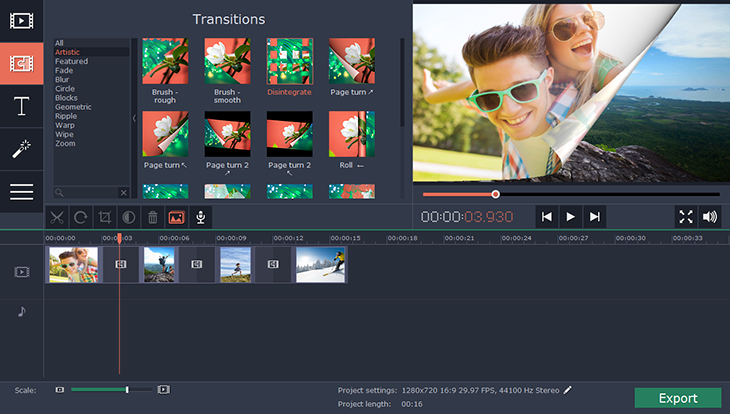 If you're trying to improve the appearance of your videos or spice them up a little then having a video editor that you can rely on is a must. Unfortunately as you probably realize video editing has always been fairly complicated, and most video editors tend to have a steep learning curve that makes them tough to cope with.
The good news is that the Movavi Video Editor is designed to be unique in this regard. Instead of having a steep learning curve, it adopts an intuitive approach to video editing that enables even someone with little or no experience to benefit from its features. While that may seem like a bold claim, it is actually primarily due to its accessible user interface coupled with the straightforward and familiar actions that are required to use its features.
When you edit videos with the Movavi Video Editor you should be able to locate the tools that you require in just a few clicks, and then put them to work with simple actions such as 'dragging and dropping' them in place or 'pulling the edges' of a window to resize it.
Of course being easy to use is all well and good, but at the end of the day you undoubtedly also want your movie editor to be able to deliver where it counts: Its features. In that regard the Movavi Video Editor does not disappoint, and it offers an impressive array of tools that rival any professional video editor. Some of the features that will undoubtedly prove useful include:
Cutting and merging video segments to remove unwanted video footage, combine clips together, and alter the sequence of the video.
Enhancing the quality of videos and correcting issues such as shaky, pixelated, interlaced or blurry video segments.
Adding audio tracks for background music, voiceovers, or other sound effects.
Inserting customizable text to create subtitles, titles, captions, watermarks, and so on.
Cropping or rotating videos to alter their frame, size, and orientation.
Applying special effects and filters to alter the visual appearance of the video in various ways.
Placing stylish transitions between scenes to jazz up the video.
Conveniently saving videos using presets that automatically optimize them for any device or platform.
Suffice to say, the Movavi Video Editor is capable of doing everything from minor tweaks to dramatic alterations and will give you all that you need to create some truly impressive videos. Exactly what you do with the tools that are provided is down to you however, and it always helps to plan your edits in advance – but at the same time be flexible enough to change that plan if you find something that may work out better.