How To Transform Your Modern Home Into A Rustic Retreat
Buying and moving into a new home doesn't mean it has to keep its modern appeal. Instead, try adding some country elements to transform it into a rustic retreat. Here's how.
Paint Your Walls With Natural Colors
There's no easier or cheaper way to transform your modern home to a rustic retreat than painting its walls with natural colors. Make sure that you use colors that blend well together and with your décor. These colors are welcoming and warm, including shades of sage green, earthy yellows, terra-cotta, rustic browns, and vibrant reds.
If painting your walls with bold colors intimidates you, you can use neutral shades instead. You can then accent them with more exciting colors found in rugs, pillows, and other accessories. Another way to decorate your walls with a rustic feel is to use light-colored paneling.
Replace Your Carpets With Wood Flooring
Whenever you think of a rustic retreat, you likely think of a cozy cabin in the middle in the woods with a fireplace. Most of these cabins are wooden from top to bottom, including the floors. To add a rustic feel to your home, consider replacing your carpet with reclaimed wood flooring for a charming look.
Instead of destroying the wood found in wood barrels, old barns, factories, and churches, the wood is repurposed and transformed into wood flooring that's both beautiful and unique. The flooring is either made of hickory, pine, oak, chestnut, among other types of wood. If you want your home to have a rustic feel to it, wood flooring is a must-have decorative option.
Showcase Your Home's Charm With Unique Lighting
One of the best ways to add rustic charm to your home is to sprinkle in subtle surprises between traditional pieces of furniture. Picking the right lighting is a great way to set the tone of a room. To set the right mood and give your home a rustic appeal, consider replacing standard pendant lights with Mason Jar pendants. Also, you can add a candle chandelier to your dining room for just the right vibe.
Out of all the light furnishings in your house, table lamps provide the most character to the surrounding atmosphere. To make the most out of them, consider using plan paper lampshades or ones that have silhouettes of moose, deer, and other large animals found in the woods. You can also add oil and hurricane lamps for that extra special touch. Remember to be careful with these, though.
Another popular lighting option for rustic rooms is antler-themed lighting, which looks surprisingly stylish with this kind of décor. Table lamps, chandeliers, and wall sconces are all available in an antler-theme, providing you the perfect lighting option when transforming your home into a rustic retreat.
Support Your Rustic Home With Ceiling Beams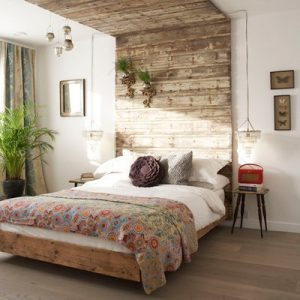 When you walk into a log cabin or mountain home, you'll likely notice the wooden ceiling beams hanging overhead. Ceiling beams make a room look authentic, creating a cozy atmosphere that makes you want to snuggle in front of a fireplace. Most average homes don't have this feature, so it's something you can install yourself when trying to add rustic charm to your home.
If you don't want to break the bank on gorgeous wooden ceiling beams, try buying faux wood beams that can be quickly installed in as little as a few hours. However, if you really want to make an impression on house guests, buy ceiling beams made from reclaimed church or barn beams. These authentic beams have been taken from their original source, refinished, and repurposed so you can enjoy them in your home.
Decorate Your Home With Antiques
If you're in the market to decorate your rustic retreat with some antiques, try visiting the local thrift shop, antique store, or flea market for a wide choice of items. Antique chairs, dressers, and tables are perfect items for bedrooms and living rooms. Crochet doilies, homemade quilts, and knit throw blankets are also great options when adding that extra flair to a rustic room.
Other items that work well in a rustic environment include aged wood trunks, antique benches, pine tables, and pretty much anything that has wood in it. Shop around and you'll find these items in no time.
Transforming your home from a modern home to a rustic retreat is an exciting project. A rustic home is quite relaxing, offering the right kind of mood when you want some peace and quiet.
Do you have a rustic home? What features does it have? Leave a comment below and let us know.
Images via Flickr by Maegan Tintari, Ryan Tansey and Wickerfurniture