How To Recover Data From Android Phone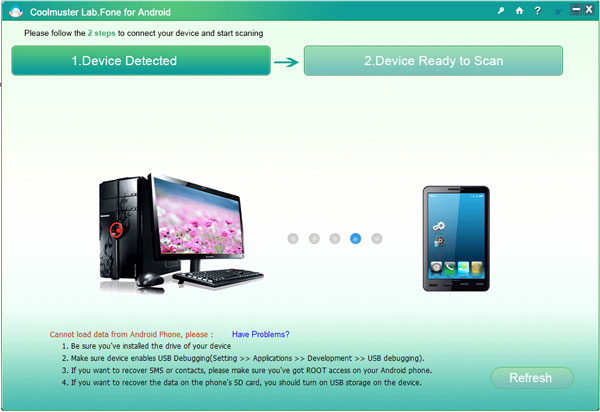 In the recent days mobile phone has become one of the most important things in our life. And sometimes it is really hard to cope up when you have accidentally lost some of your valuable data which was in your smart phone. This is a common problem to all the smart phone users. But now you don't have to worry about this problem as Coolmuster has come up with amazing data recovery software Coolmuster Lab.Fone for Android. This is extremely useful software to have in your PC to safely restore or recover data from your Android based smart phone. This is powerful software and is capable of recovering data from both the internal and external memory of your phone. Moreover it can also recover data from your SIM card also if you want to recover anything like the call logs and texts.
Cool muster Lab.Fone for Android is a super cool app to install in your PC and enjoy recovering lost data with ease and comfort. Some of the special features of this software are as follows:
It has the capability to recover as many as 9 different types of files from Android smartphones. You can even use this app for restoring deleted text messages and call list also. No matter how you lost the file whether accidental deletion or due to system crash Coolmuster Lab.fone for Android can fix it.
This software allows the user to recover the files in a very fast way and it runs smooth and swift while recovering your files. All you got to do is just few clicks and your lost files would be restored.
Soon after you connect your Android device with your computer it detects the device and performs a thorough scan and presents in front of you the list of recoverable files.
It gives a detailed list of all the files from where you can particularly select the files which you need to recover. It gives you the choice of exactly which file is to restore.
It allows the user to look at the preview of the files so that you can understand exactly which file you are looking for. It recovers only the files specified by the users only.
It has a very interactive user interface. It can be operated by any one with basic computer knowledge. It has simple and easy operations and is compact in the same time.
It is compatible with the entire major Android smart phone manufacturer like Sony, LG, Samsung, HTC and many more.
This application is updated on a regular basis and is compatible with the latest version of the Android OS. It runs smooth without any glitches in Android lollipop also.
Coolmuster Lab.Fone for Android assures a risk free data recovery and there is no way by which you can compromise your data with this software in hand.
These were some of the amazing features of this software and to sum it all this is remarkable software to have. All your recovery problems can be solved using this simple yet compact software. Be it texts, images, videos or the call logs or contacts this application can recover any type of data from your Android device.