How To Plan A Family Fishing Vacation In Seattle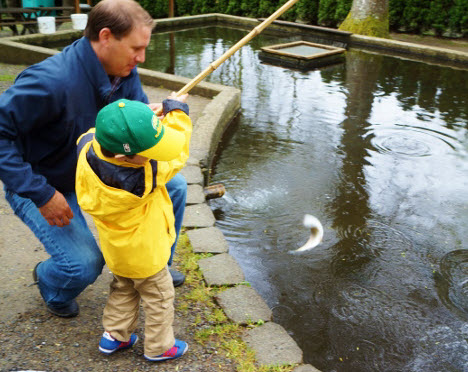 Seattle can offer a number of opportunities for a great fishing vacation with the family. Indeed, the waterways and sounds of the Pacific Northwest have a bounty of different fish – including salmon, cod, halibut and trout. It doesn't matter if you want to charter a boat or go fly fishing; there are different types of fishing expeditions for the whole family. Before you go, though, you want to be sure that you plan your trip accordingly – there are some details that you need to figure out. For instance, you want to make sure that your lodging accommodations are settled and you want to know what time of the year you are going. If you don't plan your trip accordingly, you may not have the best time. Here is how to plan a family fishing vacation in Seattle.
Make sure that you know where you are staying – in some cases, you may want to be in the center of the action. In other cases, you may want to be a little farther away so that you can get the better of two worlds. For instance, you could stay in the heart of Seattle, or you can stay out on one of the islands. The benefit of being in the city is that you can enjoy a little bit of the city life.
Make sure that you decide on the time of year you want to visit – if you want to catch the most fish, you may want to visit in the fall. This is generally when the fish are really abundant. You could visit in the early summer, but you may have to contend with the competition of other tourists. If you want to beat the crowd, you may want to visit Seattle during another time of the year.
Make sure that you have the right clothing for your visit to Seattle – this city is cold most days of the year. In the summer, the weather warms up a few degrees, but it can drop quite quickly. Moreover, there is a lot of rain. When you are on the water, you will need some kind of windbreaker, because the air can be quite chilly as it passes over the water. In the fall and winter is when it is particularly cold – it can sometimes snow.
Make sure that you book a tour with a charter company – for instance, All Rivers & Saltwater Charters offers some amazing tours of the waterways of Seattle. Moreover, you will have a far greater likelihood of catching some quality fish when going with a charter company. It is important to book early, because some charter companies have a limited number of boats.
Make sure that you have all the supplies – when you go fishing in Seattle, you will need the right flies and rods. When it comes down to it, you can go to any local supply shop and pick up the fishing supplies you need. Of course, you may want to do your research beforehand, because different types of fish will need different types of flies. In the end, having the right equipment will maximize the enjoyment of your trip and the quality of the memories you make.