How to Make Recycled Planters
Recycling is important in this day and age and there are many ways to take advantage of the free materials which are just lying around the average household…especially when it comes to your garden!
As we come into Spring and planting season, most gardeners start thinking about what plants to grow in containers and which kind of containers to use. Instead of buying mass produced containers for your patio, deck or balcony why not look about and see what you can recycle?
Plants only need a container with firm sides and some drainage holes…nothing fancy is required so essentially you can use anything to grow and display a huge range of plants.
There are many ways of recycling everyday objects into fun and even stylish planters from old shoes to children's buckets…all you need is a little imagination.
Consider what kind of plants you'd like to display in your garden or outside your home and then take it from there.
If you'd like a crazy, unusual display then don't be shy about it; choose old boots, shoes, even motorcycle helmets for your planters. Attach strings or chains and suspend them from trees or brackets.
Add a simple liner made from old carpet or thick wool and then add compost, pop your plants in and there you have it…a cheap, fun way to display your plants.
If old shoes and boots aren't your cup of tea and you would prefer something a little more stylish, why not look at making some unusual but artistic planters from old tires?
The rubber which tires are made from is very tough indeed and tires can be picked up at the scrapyard for a few pounds or even given away.
Once you've procured your tires you can decide whether you would like to keep them in their entirety and simply plant within the open section, or cut them to pieces and make them into something else altogether.
If you'd love some large, round planters for a really stunning display then tires are a great choice as they're so big and can easily be painted in a bright colour.
Arranged in a group, well planted tires make an eye catching and unusual display as well as being a cheap and cheerful answer to your planter problems!
Tire planters may be used as they are in a perfect circle or "slashed" around their perimeter and given a fancy border edge. Whatever you choose, you can fill with any plants that are in season.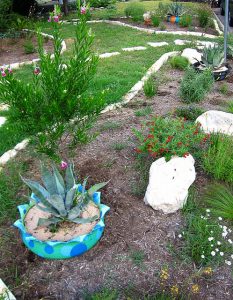 Geraniums, lobelia, nasturtiums and pansies all make great displays and are easy to manage in terms of their care. Smaller sunflower breeds can also offer a stunning display, and children enjoy learning about how to grow sunflowers and watching as the fruits of their labors grow..
Be open minded and look about in your local environment and you will see plenty of scope in terms of objects which can be re-purposed to provide you with a great planter for your garden.
Use good quality compost and water your display of plants daily during summer; if you are planning on going away, ask a neighbour to pop in and water them.
Container plants dry out very quickly so it is essential to keep the earth in the planter moist at all times.