How To Design The Right Knowledgebase For Your Website?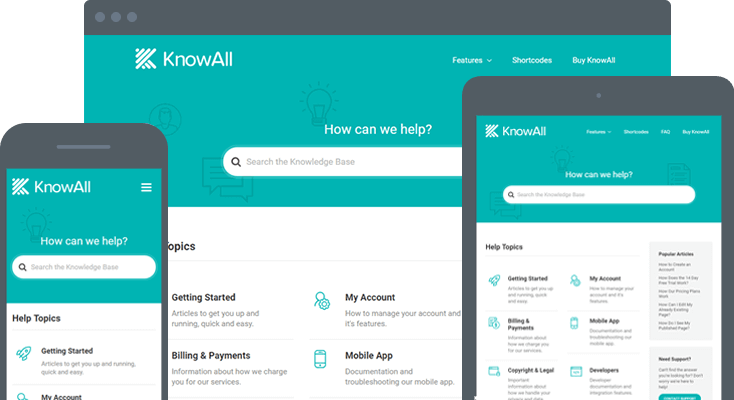 At present, many customers have been jumping on the bandwagon of self-service; they are trying to solve their problems by themselves. Even, 90 percent of consumers want their brand or company to provide a self-service customer support portal so that they can find best solutions their way. A knowledge base can satisfy your customer's appetite for self-help. However, just providing them with a standard knowledge base portal will not do.
Little did many businesses know, their knowledge base's design has a direct effect on their customers' experience with the brand. If the design is not appealing enough, it can have a great role in causing an ill impression. Keep your knowledge base as user-friendly as possible and make sure your customers can easily extract the information of their interest from it without scrambling page to page. Your knowledge base should be intuitive, accessible, and simple.
Here are some of the tips to remember when you are getting your knowledge base designed:
1.         Clean and Structured Categories
Simplicity is the key! Try to keep your knowledge base as simple as possible to ensure easy navigation and effective search. That is all your customers are expecting from it! Cramming a sea of content unorderly on the site will turn your customers off. If the topics of help are lengthy and need a detailed explanation, then having clear, concise, and consistent categories can help manage the abundance of content.
2.         Short and Explicable Titles
You customers would want quick solutions. Short titles comprising of the suitable keywords can help customers get the solution to their questions in no time. When writing the titles of help articles, try to keep them brief and try to dwell on what your customer might be interested in.
3.         Flaunt Your Search Bar
It is the best shortcut your customers would ever ask you for! The search bar. It should be prominent on your website so that your customers can effortlessly get answers to their problems. It results into a low-effort experience that every business yearns to provide its customers. Putting all this short, you need to keep your search bar easy to find while designing the knowledge-base.
4.         Extra Personalized Assistance
Where customers want to be empowered enough for self-help, you cannot back off from your responsibilities. You should be there for your customers. As soon as they click that easy-to-spot "contact us" button, your chat agent should be there to help you. Make sure that you have the right chat software for business that can provide you with extra help when they cannot find a solution on their own or they simply do not want to.
A well-crafted knowledge base design is powerful enough to create a smooth experience for your website visitors to get solutions for their problems. It is a great way to anticipate an issue even before it happens while keeping your customers updated with the product simultaneously. A self-service portal is – in most cases – an essential touchpoint to reach your customers and can beef up your community by fabricating deeper connections.