How To Add Luxury Details In Landscape Design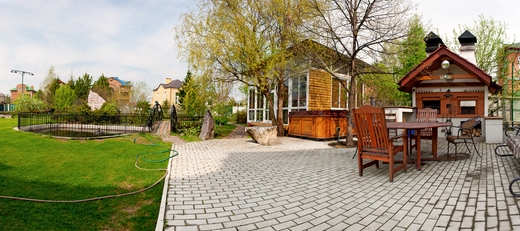 Every property is a blank canvas waiting for a landscape designer to transform it into a work of living art. Luxury landscape design incorporates stunning visual elements including fountains, pathways, year round color from perennials and annuals and a creative blend of trees and shrubs that bring vertical dimension into the landscape design. There are features that many people ignore or forget in their landscape design though and by paying attention to them, your property becomes truly unique.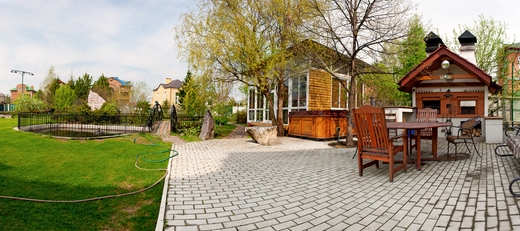 Grand Entrance
The driveway of your property makes a big first impression. As part of your landscape design, the driveway helps create a complete picture of the grandeur or simplicity you want to express. Your driveway is luxurious in appearance and function when you include certain features.
• Radiant Heating
Installing a radiant heating system below the driveway surface is a landscape design feature people won't see but will appreciate. For a first time landscape installation or a landscape renovation, heating the driveway is worth considering. Living somewhere where the snow falls in the winter involves dealing with snow removal from your driveway.
Whether you do it yourself or hire someone, snow removal costs you time and money. Even if you don't live in a snow-prone region, a heated driveway eliminates ice and black ice without the use of chemicals. With a radiant heating system as part of your driveway installation, you can melt the snow or ice by flipping a switch from inside the warmth of your home.
• Paver Stones
Using paver stones instead of traditional concrete or pavement as your driveway surface opens up a new world of landscape design options. Paver stones can be worked into a variety of designs beyond simply setting them along the lines of your driveway. Geometric shapes, a compass rose and winding mosaics are some of the creative applications for pavers in landscape design.
• Fence, Gate, Posts
Depending on how much privacy you want, a full gate or posts with or without a fence can be installed at the end of your driveway. A full gate adds safety and sophistication as part of landscape design. Gates are available in an array of styles and sizes from delicate to imposing. To achieve that feeling of grandeur without a full gate, built up brick or stone posts on either side of the driveway are a good option. A simpler choice is having decorative fence pieces start at the edge of the driveway end and extend partway along the front property line.
Lighting Design
While most people put considerable thought into what their landscape design looks like during the day, they forget about nighttime illumination. The right landscape lighting makes your property stand out beautifully and highlights all the unique features. Poorly planned or inefficient landscape lighting creates an ominous, shadowed feeling and makes it difficult to maneuver safely at night.
A great exterior lighting landscape design professional knows exactly which tree to light up, what light works best in each water feature, how to bathe the front of the home in light without washing it out or creating interior glare. Great lighting design gives your home 24-hour curb appeal and increases safety.
Paying attention to the luxury details often overlooked in landscape design gives your property a visual advantage in the neighborhood. Careful and thoughtful planning of your landscape layout makes a huge difference in the completed project. Working with a local landscape design professional means you have access to their expertise and understanding of the area and materials available. Landscape designers like Hogan Landscaping can help transform the dreams you have for your property into stunning reality.