Hostmonster VPS Hosting Review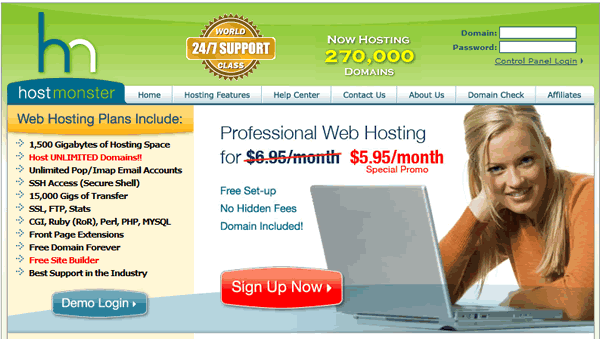 Are you someone who is thinking about taking his/her business online? Are you someone who is not able to decide between basic web hosting and VPS (Virtual Private Server)? Are you looking for a reliable and advanced web hosting service? If the answer is yes then you have landed on the right page. In this article we will review a very popular web hosting service Hostmonster. We will also tell you the difference between basic web hosting and virtual private server. So let's get started with our hostmonster hosting review.
The Difference Between Basic Web Hosting and VPS:
You might have noticed that virtual private server web hosting is way more expensive than a basic web hosting plan. The basic web hosting plan from hostmonster comes at $3.95 where as the first virtual private server plan comes at $14.99. Please note that $14.99 is the introductory or promotional price and is applicable only for the first month. After that it is $29.99 per month. With such a huge price difference you can imagine that there will be a lot of significant difference between these two.  Basic web hosting means that your data or web site is hosted on a shared server. It means that many web sites share the resources and operating system of a single server. Of course there will be some performance issues with such a shared web hosting service. On the other hand VPS means that every website is hosted on a single virtual server. Important thing to note here is that the server is virtual and not physical. It means that physically there is one server but it runs multiple copies of the same operating system and each website has its own instance of the operating system.
Which One Will be Right for You?
If you are simply a blogger or if you have a simple website then basic web hosting plan will be good for you. But if you have a resource intensive website that runs a lot of scripts then you should go for a virtual private server. Basic web hosting will also fail you if you experience significantly huge traffic. For websites that receive a lot of traffic, VPS is the best bet. You need to decide what your needs are. What kind of services your business will be offering online. For example if you are an online merchant and you earn your revenue from e-commerce then there is no point of buying a basic web hosting plan as only a VPS can fulfill your needs.
The first and the most basic benefit is speed. VPS is always faster than basic web hosting. But apart from speed there are a lot of other features too that are only available in a VPS plan. VPS servers run individual virtual operating systems for every single website that they host. This means that you can tweak your operating system according to your needs. Such tweaking gives you a lot of independence and you are able to design your own scripts.