Five Easy Ways To Achieve A Stress-Free Move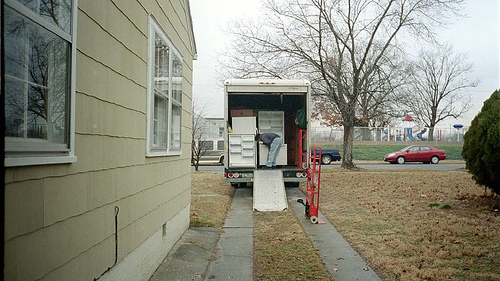 We've all hear horror stories from friends or family of precious items broken in transit, losing those all-important documents you need to set up your new home, or simply not being able to make yourself something to eat on your first night because all your kitchen stuff is in a box. One of the many, many boxes.
It doesn't have to be that way, though, and with the right planning and preparation it can be a relatively stress-free experience – letting you get excited about your new home, instead of het up. These five top tips can go a long way to making that happen, so read on and take note to turn your move from a relocation disaster into a marvellous move.
1. Start Packing At Least A Month In Advance
It might sound like a really long time in advance to start packing, but in reality you never know how long the process is going to take; it can be quite surprising how many belongings you uncover during the packing process and a lot of them will be disorganised. Things like furniture may need to be dismantled, and it can all take time.
Start in the attic and move your way down through the house, packing each room one by one – don't try and do it all at once! Pack non-essential things so you're spreading the process over a longer period of time; this will let you pack effectively, and avoid the mad rush of shoving things into boxes at the last minute.
2. Clear Out While Packing To Minimise Boxes
There are undoubtedly quite a lot of unnecessary belongings lurking away in cupboards, at the bottom of drawers and hidden in the attic. Instead of blindly packing everything and making your move more difficult than it needs to be, now's the perfect time for a thorough clear out.
If you've not used it, worn it or watched it in a long time then it might be worth getting rid of it – whether it's on eBay, at a car boot or just donating to friends that might get use out of it. Obviously family heirlooms, valuable items and anything sentimental doesn't necessarily apply!
3. Choose Removal Companies Wisely & In Plenty Of Time
Unless you're moving light, you'll need the help of the professionals – the enormous van alone is worth the money, saving you multiple trips in a small car. Make sure you get in touch around two weeks or so in advance so that both you and the company are prepared, and you're able to figure out prices – moving on a weekday can sometimes be cheaper.
It's vital that the company is a member of the British Association of Removers (BAR) as this gives you peace of mind that they're reliable, trained and accredited. This will avoid disasters on moving day, and help the bulk of your move go smoothly.
4. Notify Your Utilities, Phone & Broadband Suppliers Ahead Of Time
Doing this well let you avoid stress in the first few weeks in your new place, and will help your home get up and running as quickly as possible. Notify everyone from energy supplies and phone services to your banks and water suppliers well in advance – 6-8 weeks is a good timeframe. This allows you to get set up in your new home far more quickly, and can also be a good opportunity to switch or be offered better rates if you're unhappy with your current supplier – whether that's broadband or gas.
5. Pack A 'Day One' Essentials Box
Imagine it's the end of moving day – you're exhausted, surrounded by boxes and the last thing you want to do is start unpacking. By packing an essentials box for the first night in your new place, you'll be able to have something to eat, cook, make something to drink and be prepared for every eventuality.
Pack things like a kettle, tea, coffee, powdered milk, plates and cutlery (possibly disposable), medication and a few simple non-perishable ready meals (like cuppa soups, dried pasta, noodles or rice). You can relax with a hot drink, something quick and easy to eat, and will be prepared should anyone get hurt or succumb to a headache – without the need to root through countless boxes.
Featured images:
License: Creative Commons
image source
License: Creative Commons
image source
License: Creative Commons
image source
This post was written by Tom McShane – an avid blogger, lover of all things technology related and also in the process of making the move to his new flat. Using some of these tips, and others, Tom was able to start the ball rolling well prepared and free of stress. He would recommend King's Removals for anyone in Buntingford or Essex looking for a reliable removals company.