The Sights of Sydney:
On your next trip Down Under, visit Australia's legendary attractions while enjoying the hospitality of exquisite five star hotels.  In Sydney, The Four Seas Sydney is nestled in the historic district of the Rocks and offers rooms with spectacular harbor views and superior service. Plan to spend a few days exploring everything from Bondi Beach to the Sydney Opera House.
The Great Barrier Reef: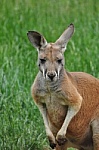 After you've taken in the sights of Sydney and maybe even done the Sydney Harbour BridgeClimb, the Great Barrier Reef would be your next destination. To travel to the Great Barrier Reef from Sydney, you should journey to Cairns via Brisbane.
The Great Barrier Reef is synonymous with Australia and not to be missed. It hosts two million visitors a year and spans over 1,250 miles. It is the largest structure on earth made by living creatures and can be seen from space. Truly gorgeous and memorable, you can visit the reef in a glass bottom boat or see it up close by snorkeling or scuba diving in the reef's crystal clear warm waters.
Synergy Cruise or Arrange a Tour:
A Great Barrier Reef tour choice would be Synergy, a luxury sail and snorkel cruise. Sail to the reef on Synergy II, a 62 foot high performance sailing catamaran offering extraordinary style inside and out. You will enjoy a leisurely two hour sail to the Great Barrier Reef, with over three and a half hours at the reef site. The cruise includes snorkeling equipment, tuition for snorkeling instruction and a guided snorkeling tour.  If you're looking for something a little simpler, any number of tours can be arranged to see the Great Barrier Reef.
Angsana Resort & Spa:
When you're not exploring the natural wonders of the Reef, wrap yourself in luxury at the stunning Angsana Resort & Spa.  This five star resort is the only hotel with a full beach on the Coral Sea, the gateway to the Great Barrier Reef. Every suite of this "Small Luxury Hotel of the World" promises a private tropical retreat and unique amenities to make your evening as remarkable as your day's adventure.  Each luxurious suite is a spacious apartment style residence with floor to ceiling glass balcony doors that open onto wide patios and tropical gardens. The resort also features an awarding winning spa with a vast array of services to make your stay renewing, relaxing and rewarding.
Final Days of Australian Adventure:
For the last days of your Australian adventure, explore some of the other charming towns of the Queensland District while ensconced at the five star Whitfield House in Cairns for the remainder of your stay.   The Whitfield House is a luxurious mansion which serves as a boutique hotel located within the Whitfield Conservation Park and adjacent to the magnificent Fleckner Botanic Gardens.  Each spa suite is luxuriously appointed and affords beautiful views of the grounds and their gardens.  The Whitfield House is close to the city center of Cairns, yet secluded and tranquil in its setting.
Cairns, Port Douglas and Palm Cove:
The towns of Cairns, Port Douglas and Palm Cove each has something special to offer and they all afford you one last chance to relax and indulge in Australia's natural beauty.
Here are a few suggested favorites to guide your path:
The Daintree Rainforest is the oldest surviving rainforest in the world.  Lose yourself in the tranquility and beauty of this treasured piece of land. Explore on your own or join a guided tour.
The Skyrail Rainforest Cableway lets you tour approximately 4.5 miles of rainforest just yards above its canopy and then, it glides you deep into the forest's heart at Skyrail's mid-station.  The tour takes 1.5 hours one way or 2.5 hours round trip.
Cape Tribulation is a highlight of any Australian visit. Tours can be created with every itinerary tailor-made to suit each guest's interests, time frame and budget.
Cairns Tropical Zoo is a small zoo offering a variety of shows featuring the local wildlife.  If you attend "Breakfast Time at the Zoo", you'll have your chance to hold an actual koala bear.
Pandanus Aboriginal Art Gallery specializes in Aboriginal artists, ranging from emerging artists to rare high end collectible pieces from the indigenous art movement.
David Vilaseca, born and raised in Barcelona, is a true Barcelona lover. He regularly provide interesting insights about Barcelona and invites all visitors to check Apartment District to book a holiday apartment.