Escape To The Hunter Valley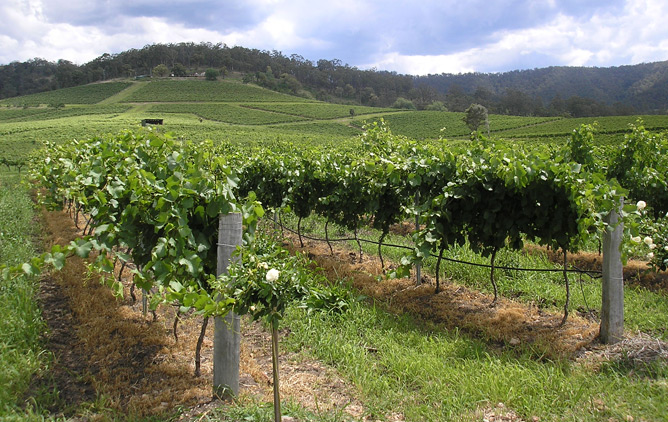 Sydney is a vibrant city full of life, entertainment, excitement, culture and basically everything one could need. However, it's sometimes nice to get away from the big smoke to escape to a place of serenity. If you're in Sydney, you don't have to hop on a plane or drive for hours on end to find a peaceful destination.
Less than a two hour drive outside of Sydney is the one of the country's best known wine regions, the Hunter Valley. The epicentre of the Hunter Valley wine country is Pokolbin and around this area is mostly vineyards. Stretching for miles are grapes that make up most of the traditional varieties such as Shiraz, Semillon, Cabernet Sauvignon and Chardonnay.
This area can offer nearly any delicious grape blend you can imagine. So if you're in the mood to relax with a great red or white, the Hunter Valley is the place to escape to. Don't think that sipping on wine is all this place has to offer though – there plenty of other things to do.
Wineries
With more than 150 wineries to choose from, you would need to spend at least half a year here to enjoy each one. While it would be nice to dedicate your life to drinking wine as if you were a sommelier, getting back to the real world might be inevitable. What you can do is find your favourite Hunter Valley winery and enjoy the little bit of time you do have.
You can learn from the real wine makers, experience their best blends and experimental fusions and relax with a glass in hand. Here are some of our favourite Hunter Valley wineries (although all in the area are special in their own way):
Audrey Wilkinson Winery
At Audrey Wilkinson Winery you can enjoy more than just some fantastic wine. They have a beautiful winery with only two charming guest cottages to choose from which means you have plenty of privacy. While sitting at your cottage you can enjoy 360 degrees of the majestic Brokenback Ranges and vines.
A recently opened museum shows off the original barrels and vats used to make the wine with audio and visual aids with knowledgeable information. Make sure to sip on their well-known Rosé, which is good enough to develop an addiction for. Lastly, their Cellar Door was rated in the top 10 of the country, so you must check it out while you're in the area.
David Hook Wines
A small winery with a big impact is David Hook Wines. Here you will find one of the region's largest wine tasting menus including the fresh and fruity whites along with the deep and full bodied reds. There are interesting regional sandstone buildings, a sweet cafe, assorted shops, and of course, a winery.
This winery specializes in single vineyard wines such as the traditional Semillon, Chardonnay and Shiraz varieties. They also dabble in upcoming assortments such as Barbera and Viogler.
Brokenwood Wines
If you are after a prize winning Shiraz, Brokenwood Wines is your spot. This consistently exceptional winery has been producing wine for over 40 years now. With their focus initially on Shiraz planted in the Graveyard Vineyard and Cabernet Sauvignon planted in Cricket Pitch Vineyard. Both vineyards are iconic in preserving the proudly grown wine in the area with a motto of "to make great wine and have fun." It would be a shame to leave without trying this prize-worthy wine.
Blueberry Hill Vineyard
Blueberry Hill Vineyard is another exceptional place on your wine region tour. Although not boasting a large menu to select from, the few varieties they do offer are award-winning, especially their Shiraz. Rich, spicy, yet elegant, this blend is what the region is known for and Blueberry Hill does it justice. Should you have had one too many sips of their delicious wine or not enough but want more tomorrow, they have a boutique bed and breakfast to lay your head down at.
Tallavera Grove
Another long term winery that's been winning awards for years now is a bit more off the beaten track than most in the area. Tallavera Grove is set on rolling hills and a beautiful vineyard. It's said to have one of the most scenic drives en route as well as a great Botrytis Semillion with a sweet and French oak taste. There is also an attached bistro so you can wine and dine for as long as you like here.
Activities
Drinking wine is a fabulous way to spend your time and calm your mind, however it might be necessary to emerge from the winery to stretch those legs or at least check out more of the gorgeous landscapes and scenery around Hunter Valley. Here are just a few of the activities you can do while in the area, but don't worry, a winery is always nearby.
Want a bird's eye view of the Hunter Valley? Join an epic helicopter ride with Slattery Helicopter Charter for a scenic, peaceful, safe and very beautiful ride above the vineyards and olive groves with Broken Back Range as your dramatic backdrop.
If you want the same view but in a different way, then try Wine Country Ballooning where you can set your eyes on the same sights but from up high in your own hot air-balloon.
If you love horses then hop on one at Hunter Valley Horse Riding and Adventures. All ages and experiences are welcomed and they all include a nice picnic in nature as well. You will have a guide with you for assistance and if you so choose, you can ride into the sunset along with some of the wildlife that come to play during that time. Look out for kangaroos and wallabies around at dusk and say goodbye to daylight as the sun sets behind the vineyards.
If you're up for something a bit more active try Grapemobile Bicycles for a fun ride through the mountains. Bikes for adults with child seats are available and the essentials such as water and helmets are provided as well.
With more activities such as cooking courses, golfing, sky diving, as well as sites such as museums, gardens and galleries, there are plenty of things to do while you sip on all the amazing wine that's at your fingertips. The Hunter Valley is the perfect city getaway and you might end up spending more time here than anticipated.
Featured images:
License: Image author owned
James Chatman writes for JC Limousines, a limo hire company based in Sydney.