Do's & Dont's For This 14 Feb 2015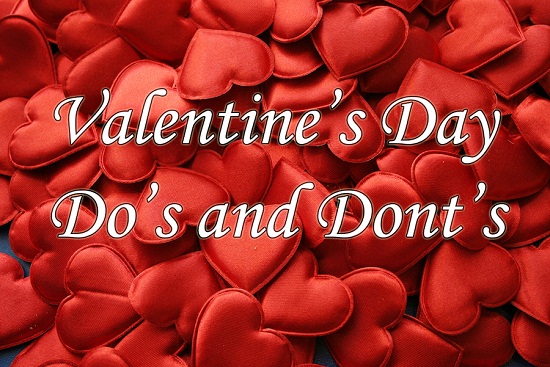 Coming up next is the most celebrated month of love. As early as now, men and women alike have racing ideas in mind as to how they would end up come that day of romance. Singles who have plans of going out on a date must be busy preparing by now. The more preparations are the couples who want to spend that most chosen day with their beloved and the other half. Whatever status you are in as of the moment, there are a few things you should bear in mind so your romantic day will end up full of romance as it should be. Here are a few Do's and Don'ts you can live by this 14th February 2015: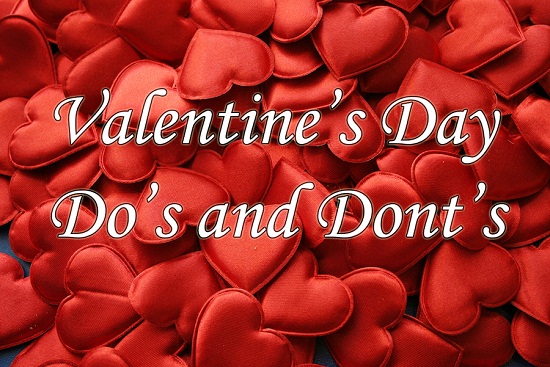 Do's:
Do some planning days or weeks before the date.
While some loves surprises, most men hate impromptu dates. Create some plans and solicit some suggestions from your partner as to what should be best, but do not lay down all your cards just yet.
Do your shopping for valentine dresses early.
Before 1-2 weeks ago you have to think about your valentine dresses. Cramming is next to being sorry. Just as you do your planning, include your costume or date's outfit. Shop online or in person as early as possible or while you have time, so you do not end up mismatched or improper attire.
Do the date within your budget.
Take note that you should live within your limits so you should plan according to how much you can afford. Nobody smart should go bankrupt after a Valentine's Day date and that should start from your planning stage.
Dont's:
Either you know by now whether your Valentine's company would love what you have in mind. Make it a point not to assume on places, likes, and foods your partner would like as the date might end up negatively.
Do not forget to include lingerie on your Valentine's shopping.
It is best to be prepared that getting caught off guard. There is a great chance of you and your partner being carried away that very day, so see to it that you have lingerie included in your Valentine's shopping list. Who knows, things might get down under.
It is always lovely to stay simple. You can be chic while at the same time maintaining the basics. The romance will exude anyway, especially if you and your partner share the same Valentine ideas. Makeup, outfit, and dating place – never exaggerate on them.
The idea and concept of celebrating the day of love and romance is to strengthen the already existing love or to rekindle some forgotten love which is at some dangers or possibly breaking off. A few cents above will help you do things the way it should be and eventually succeed in whatever plans you have in mind. Most of all, do not forget the date and time as to where you and your partner will spend this extremely romantic rendezvous of your 2015. Feel the love as you and your partner enjoy February to the maximum.