Building Colonial Sheds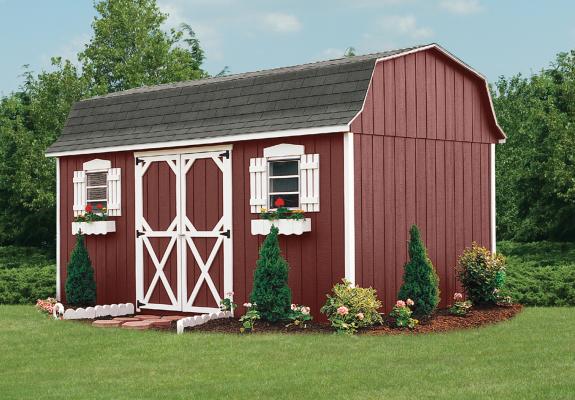 The shed has become a common homeowner backyard solution for extraneous storage, typically of landscape and gardening tools to free space in the garage. Sheds are available as pre-constructed kits to purchase and assemble onsite, or custom-designed by a contractor and delivered to the site as a kit, or it can be constructed on site from purchased or originally conceived plans.
Colonial sheds are a very popular style for homeowners because of the simplicity of the design and final appearance. The colonial style consists of simple materials, typically painted wooden sheathing of tongue-in-groove panels with symmetrically placed windows and door and a significantly pitched roof of 25 to 40 degrees or more, typically sheathed with asphalt shingles.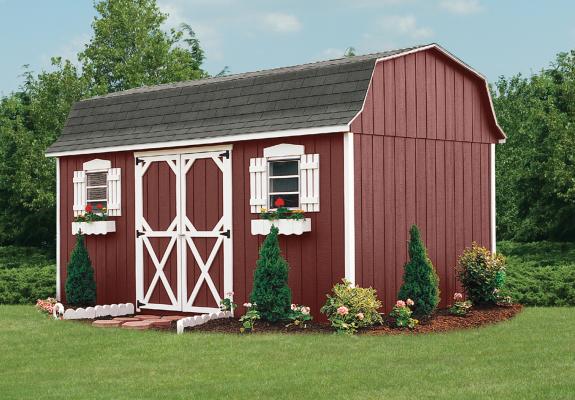 If your location is in a winter snow region, be certain the roof structure will support snow, but better if the design allows for a higher-pitched roof to discourage snow retention.
Typical paint colors tend to be white, gray, lighter blues or barn red with white trim on windows and doors. White sheathing would typically trim windows and doors with one of the other complimentary colors.
Regardless of which shed format is purchased, the floor/foundation is typically gravel, plywood or concrete. For proper protection of the equipment storage of hand tools that may be placed directly on the floor, the shed floor should not be bare ground. If gravel is used, the ground should first be leveled, then lay down a sturdy plastic sheet as a moisture, weed and insect barrier, and then pour gravel over the sheet.
If a plywood floor is used, the wood should be raised from the ground by concrete blocks or equivalent and should be leveled. Treated wood should be applied to resist warp and rot. A sealing coat will offer further protection.
A concrete floor is a permanent fixture, so be certain of location before preparing the ground and framing for the pour, making certain the framing is level.
Everything but the sheathing and the roof pitch are going to be of typical design and construction; all shed styles will make use of common design features except for these visible details and regardless of the shed format chosen from pre-constructed kits to a custom-designed and built structure. As a result, virtually any shed design can be modified to fit a colonial appearance if desired.
Some sheds can be large enough to accommodate a dual purpose, such as storage for gardening equipment, and a children's all-weather play enclosure. This dual purpose, if employed, should have a partition between the two shed functions. Younger children should not have immediate access to gardening tools. It is best to have separate entrance doors for each shed purpose.
A shed should always have adequate ventilation, but particularly if it is used as a playroom. If the shed is a shared purpose with gardening tools, equipment and storage of fluids, the latters' vapors can invade the playroom space with dire consequences if the playroom is not properly ventilated.  A colonial shed can add storage and architectural interest to the backyard.