Becoming a Professional Lathe Machine Operator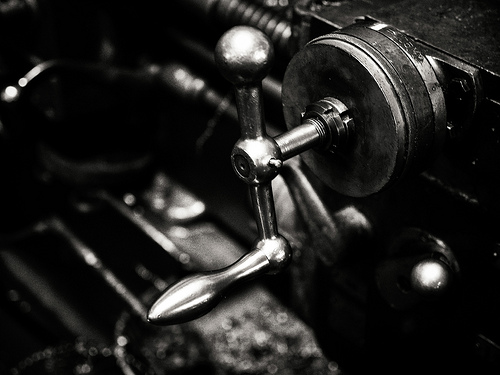 A lathe is a machine tool that holds an object in place for cutting, sanding, drilling and other functions. Lathes are used to shape many types of materials including wood, plastic, metal, glass and pottery. Some lathes are used for rough work, while others are capable of creating intricate ornamental design. Lathes have existed since the ancient Egyptians invented a turning device around 1300 BC. Nowadays, the manufacturing industry uses both manually operated lathes and CNC, or computer numerically controlled, lathes.
What Lathe Machine Operators Do
Responsibilities are similar for operators of manual or CNC lathes, although CNC lathes are more complex because they are controlled by a computer. You load the machine with material for production. While it is working you monitor it to watch for problems such as overheating and vibration. During production, you may have to adjust the speed of the machine. You periodically inspect the objects the machine produces. If you detect minor problems, you may need to adjust or repair the machine yourself, but if the problem is serious, you call in a specialized mechanic or technician.
Training and Certification to Become a Lathe Machine Operator
To operate a lathe manually, no degree or certification is required, although many employers require lathe machine operators to have a high school diploma. A few months of on-the-job training is sufficient. You usually begin by watching and assisting workers with more experience. You may first learn such skills as starting and stopping the machines, feeding in material and removing finished products. As you gain expertise, you advance to changing cutting tools, adjusting machine speeds and inspecting finished products for defects.
Even to operate machines manually, many employers prefer that you receive certification. The National Institute for Metalworking Skills, or NIMS, awards credentials to qualified lathe machine operators through exams based on both performance and theory. CNC operators are also sometimes trained on the job or through apprenticeships, but many professional CNC operators go through training for certification at a community college, vocational school or technical school. Coursework consists of basic math, CNC machine setup and operation, reading blueprints, CNC tooling, and sometimes computer aided design and manufacturing. CNC operators need to have mechanical aptitude, analytical skills, and troubleshooting and problem solving skills.
Work Environment
Professional lathe machine operators usually have full-time employment in factories. Observance of safety rules is imperative, as the high-speed machines are potentially dangerous. You usually wear protective equipment such as safety glasses and steel-toed boots. When you work with materials that emit dangerous dust or fumes, you wear a respirator.
Job Outlook
According to the United States Bureau of Labor Statistics, employment of metal and plastic machine workers is expected to decline 6 percent from 2012 to 2022, mainly due to advances in technology, foreign competition and changing consumer demands. However, because CNC machines work much more quickly and effectively, firms are adopting this new technology to lower production costs and improve quality. The demand for CNC machine programmers and operators is expected to be strong. For the best future job prospects, it is important for prospective lathe machine operators to receive training with CNC machines.
Jason Pickett is a freelance writer who concentrates on machine tools, hand tools, gadgets & devices, the construction industry, water tanks, storage tanks and other neat topics; for more info about the latter Jason encourages readers to visit Go-To-Tanks.
Image credit goes to Daniel Y. Go.