All about horse riding saddles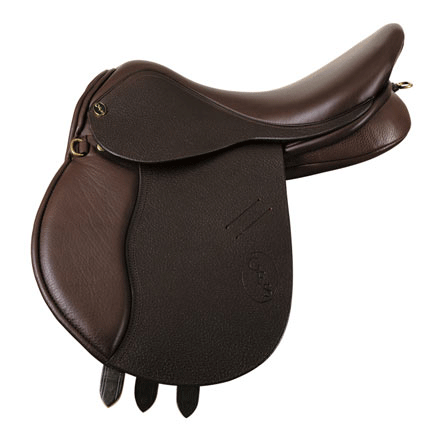 Horse riding is not at all an easy task. It requires sheer expertise and control. In the earlier days, people used to ride horses without saddles. Riding the horse in bareback will help the rider to attain more balance and it will give you better feel of the movement of the horse. But, if you want to participate in a competition or if you wish to drive the horse in a road, saddles are a must. Saddles are unavoidable peripheral in Western riding, and if you are looking forward to learn the techniques of English riding, then horse saddles are a must.
Horse Saddles which are provided in horse riding schools are of general size and it will suit to almost all body types. But if you own a horse, then it is highly necessary to buy a horse saddle which suits your horse's back. You should also consider the type of riding before selecting a horse saddle and saddle pads. To buy the right horse saddle for your horse, you need to have impeccable knowledge about horse saddles. Please find below the details of various types of horse saddles, and you will be able to select the right one for your horse if you read the description of each saddle carefully.
General purpose saddles:
These types of horse saddles are commonly used in riding schools. You can also use this if you have bought a new horse and if you want to enjoy different riding experiences. In a riding school, people with various tastes and size will come, and these general purpose saddles are suited to satisfy all their needs. Basic jumps, hunts and dressage can be easily done with these horse saddles. A general purpose horse saddle is equipped with sturdy flaps, and thus it will provide you pretty good balance as well.
Dressage Saddles:
These horse saddles are specially made for sophisticated riders who regularly participate in competitions. A dressage saddle is undoubtedly the best saddle for flat work competitions. The U shaped curve in the saddle offers better balance for the rider, and this is the main reason behind their popularity among flat work riders. Upright Torso position is adopted in dressage saddles, and it will improve the balance of the rider to a great extend. The light weighted straight flaps in the saddle is made up of very thin material, and it helps you to keep your legs closer which is highly suitable for various précised moves.
Western Saddles:
Western Saddles have being used by cowboys. These horse saddles are made up of brown leather, and there will be many western designs in these saddles. A small handle also known as horn in the top side of the saddle increases your balance to a great extend. These horse saddles will provide huge comfort while riding, and is one of the most popular of all the saddles. If you are the one who spends a long time in the horse's back, then these saddles will be the most suitable option from you.
Jumping Saddles:
 A jumping saddle is specially designed to pull the rider forward to the two point jumping position, and he will be able to jump easily over fences and other barriers. The seat of these horse saddles will be more flat than a dressage saddle and it is characterized by a C shaped curve. Big saddle flaps will offer you much support for your legs and the front paddle will provide you stability while jumping.
Kids Saddle:
These horse saddles are used in small ponies, and usually kids use these saddles for their driving purposes. This horse saddle will be much smaller in size, and it will give the kid nice control over his ride. In many of these saddles, there will be a handle equipped for much better balance. These saddles are less expensive when compared to other ones, and it will suit to almost all ponies.
Hunting Saddles:
 Hunting Saddles are specially designed for people who go for hunting in the country side. In the time of hunting, you will be compelled to jump over large fences and hedges, and these horse saddles will offer you much protection and balance during the time of hunting. The shape of these saddles allows the rider to lean backwards during the time of jumps and this will maintain his safe position throughout the ride.
Australian Horse saddles:
If you are the one who wish to spend long time in horse backs, then these Australian Horse saddles will be the best choice for you. A deeper seat, horn and knee pads are the peculiarities of these saddles. These paddles are renowned for providing high security for the rider, and are widely used all over the world.
Racing Saddles:
These are light weighted horse saddles and will be in very small size. There will be only one girth strap, and the stirrups will be very short. These saddles are specially designed for jockeys who ride their dashing horses in sky rocketing speed. The seat will be smaller when compared to other horse saddles and this allows you to hover while jumping and during the time of high speed.
Treeless Saddles:
These horse saddles will give you a feel of riding in bareback. You will be maintaining closer contact with the horse and you will experience all humps and bumps while riding. These saddles are not that safe when compared to other ones, and this should be used by experts.
While buying saddles or saddle pads, you need to be very careful. You should buy it from the best manufacturer. devoucoux.co.uk is one of the most popular names in the horse saddles arena. Products from devoucoux.co.uk are highly impeccable and you will be satisfied in all aspects. Apart from horse saddles and saddle pads, you will also get Stirrups, girths and breast plate from http://www.devoucoux.co.uk/ . You can contact this company for all your horse saddle needs, and they fulfill your needs with impeccable products.