The smartphone market is growing rapidly thanks to their low cost and ease of use. One of the key factors that have contributed to its rapid growth is the wide range of apps that are available via the interface. "App" is the short form for application, which is a program built to perform specific tasks. There are a multitude of apps that can be downloaded – you can find social apps, educational apps, sports apps and many more. Once downloaded, they are within your smartphone and many do not even require internet connection to use.
Some apps are usually a part of a website which is too large to work on a smartphone interface. They also serve as utilities replacing many tools used by physicians, or may replace the use of books and references by providing quick solutions. Fortunately for orthopedicians, there are many orthopedic apps available for smartphones to help them in their work.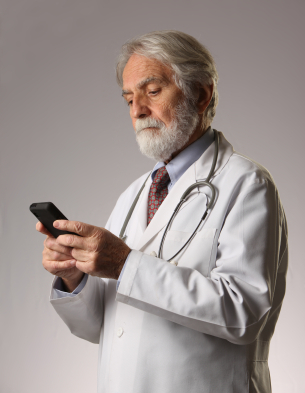 Here are some of the better known orthopedic-related apps available for download:
1. AAOS Now
AAOSNow is a small version of the newspaper through which many necessary and useful articles are made available. Although the articles are same as the newspaper version, some additional features include video and web casts. Shortly put, it is an easy to use version of the newspaper which you can also carry around easily. The best benefit of this app is easy usability and portability along with ease of access.
2. AESCULAP OrthoPilot
Many a time it becomes difficult for orthopedic doctors to use new devices or techniques if they have not been trained on how to use them. Rather than having to go through chunky manuals explaining how to use certain devices, AESULAP Implant Systems have come up with a revolutionary app that has videos and figures explaining their systems and its proper use. The app includes information on Excia, Columbus, Metha and Columbus Revision implant devices. The User Interface is simple and consists of an Accuracy App that shows the right direction and angle to fit the implants. The app is very useful as most videos are clearly labeled and PDF manual is also available for every device. Orthopedic surgeons will benefit from this app tremendously.
3. Orthopedics Hyperguide
This is a mobile app is a part of the website ortho.hyperguides.com. Like the website, the app too is divided into categories by format, topic or subspecialty. One of the best features of this app is the question bank. You can take quizzes on the go and keep learning even while travelling. You also receive a test report with the correct answers so that you are able to recognize your mistakes. You can access peer-reviewed content as well as undertake CME; therefore it is a very useful app, especially for residents and physicians.
4. AO Surgery Reference
It is a repository for surgical knowledge as it provides information on all surgical management processes; right from diagnosis, treatment to aftercare. It also gives access to a number of surgical procedures and approaches. The literature has been evaluated and laid out in an easy manner for easy access to help prepare for surgical procedures.
5. ORTHOSuperSite.com
This app again is a part of the ORTHOSuperSite.com website, Orthopedics and Orthopedics Today. Unlike AAOS Now, the content on this app is more concerned with news stories from Orthopedics and Orthopedics Today. You can also access the blog posts of the parent website via this app. This app provides important orthopedic related news to surgeons.
6. drawMD Orthopedics
This app is designed to help doctor-patient communication by offering an interface using which doctors can explain the complex surgical procedure to their patient. The app helps the patient understand the medical problems by letting the doctor sketch, type or stamp into the predesigned anatomical images provided by the app. In case an image is not present in the app, surgeons can import it and use it same to show how fractures, cartilage damage and ligament injuries can occur. Some of the stamps within the drawMD library include shoulder replacements, arthroscopes, bone grafts, hip fracture repairs etc. You can even mail the drawings to the patient and family for future reference.
Smartphones have now become a great tool for orthopedic surgeons. Why don't you try out some of the apps right away?
Author Bio: Michelle Tyler is a well known writer who provides meaningful information regarding the latest technologies and apps which in turn helps orthopedic surgeons to improvise on their specific tasks. These articles help patients understand the latest treatment options that are available to them.