5 Nutritious Breakfast Recipes That You'll Love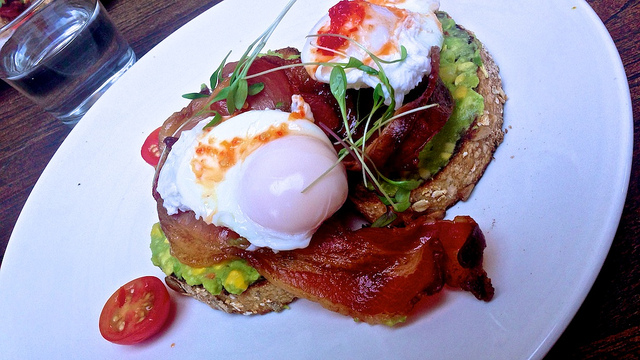 Breakfast is the most important of the day's meals as it gets the body's metabolism working well for the day. Taking breakfast tells the brain that you need to start working to digest the food. However, failing to take breakfast in the morning makes the body think that it needs to conserve energy as it is not getting any more from food.
Smashed Avocado on Toast
This is a quick and very delicious recipe containing healthy unsaturated fat
Recipe Ingredients
Avocado cut into chunks, 1 tablespoon low fat cottage cheese,4 mint leaves3 cherry tomatoes, quartered Squeeze fresh lemon or lime juice1 slice of bread
Method
Toast the bread lightly. Chop the mint leaves on the avocado and add the tomatoes then squeeze the lemon juice over. Spread the cottage cheese lightly over the toast and place the Avocado mixture over it. Serve immediately
Sautéed Mushroom on Toast Recipe
This recipe is nutritious and takes a few minutes to prepare
Recipe Ingredients
Mushrooms, sliced1 clove garlic leek, washed and slice1 large slice bread, dark rye sliced thickly2 tsp. olive oil1 tablespoon Water
Method
Heat the olive oil in a small nonstick, add the sliced mushrooms and the tablespoon of water while turning the mushrooms over. Add the garlic and keep turning until it cooks. Toast the bread and spread the mushroom soup over. Serve immediately
Banana Blueberry Smoothie Recipe
This makes a very healthy breakfast drink
Ingredients
1 ripe banana cup frozen blueberries1 cups low fat milk1 small tub vanilla yogurt¼ cup oats1 tablespoon Honey
Method
Blend all the ingredients together and serve chilled in glasses. Garnish with oats if preferred
Spinach and Sweet Potato Frittata with Roasted Tomato Recipe
This is the best alternative to scrambled egg for breakfast
Ingredients
4 eggs3 tomatoes halved1/2 cup sweet potato grated1/4 cup reduced fat milk1/3 cup baby spinach (handful) 1 teaspoon seeded mustard
Method
Preheat the oven to 200 degrees. As it is preheating, place the tomatoes on a baing tray lined with baking paper and cook for 15 minutes. Mix the eggs, spinach, sweet potato, mustard, salt and pepper in a bowl. Take out the tomatoes and reduce the oven temperature to 180 degrees. Pour the mixture into the baking dish and sprinkle the tomatoes on top poking them into the mixture. Bake for 25 minutes and check for extra minutes. Remove from oven and let cool for 5 minutes. Serve immediately
Vegetable and Ham Slice Recipe
This makes a perfect breakfast recipe
Ingredients
Eggs cup of low fat milk2 Slices thick ham, cut into chunks2 spring onions sliced1 small carrot, grated cup flour2 teaspoons seeded mustard cup sweet corn, canned, drained Salt and Pepper to taste Chutney, to garnish
Method
Preheat oven to 180 degrees and grease baking dish. Whisk eggs and milk together and season with salt and pepper. Add ham, spring onions, carrot, and corn and stir well to combine. Pour flour into egg and mix well. Pour into pan and cook in oven for 30 to 40 minutes. Cool, slice and serve.
Ehic application enables an individual to get healthcare at a reduced cost or even for free, and covers for treatment that is needed to allow you to continue your stay after a travel until he planned return. Ensuring a healthy breakfast everyday backed up with an Ehic card will assure you of an enjoyed healthy holiday travel without the stress of healthcare expenditures